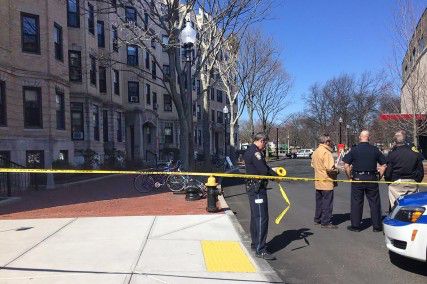 The Boston University Police Department and Boston Police Bomb Squad determined there was no threat after responding to a phone call placed Thursday morning claiming there was a bomb somewhere on BU's campus.
An unidentified individual called a BU building located at 881 Commonwealth Ave. between 10:30 and 11 a.m. and said there was a bomb in an admissions building, said BUPD Deputy Director of Public Safety Scott Paré. The situation was cleared by 11:50 a.m., but a BU Security Alert was not issued to students until all areas were deemed safe.
Paré said it is standard protocol for BUPD to investigate suspicious situations and determine if a threat exists before notifying students.
"You want to check out the scene before you send out any kind of alert," he said. "If there was a suspicious package or something of suspicious nature that enabled it to be a threat, then we would obviously notify students right away to let them know to stay away from that building. But nothing was found. There was never a direct threat to any student."
Responders evacuated and searched 881 Comm. Ave., 233 Bay State Rd. and 121 to 125 Bay State R., all of which are either current or former admissions offices, said BUPD Captain Robert Molloy.
The BU security alert was sent out because of concerns about the increased police presence at the locations being searched, Paré said.
"We wanted to put the students and community at ease," he said. "If there was any threat or we thought anybody's safety was in any type of jeopardy, we would have put that information out immediately."
Spokesman for BU Colin Riley said BUPD's response is common procedure.
"[In these situations], police get on the scene quickly and are able to determine that there is nothing suspicious in short order," Riley said. "Rather than getting everyone worked up, the most important thing is to get to the scene quickly and make an initial determination."
Paré said BUPD immediately contacted security services in Boston and gathered as much intelligence as possible when investigating the threat. The University of Connecticut and University High School in Orlando also received bomb threats from the same number.
"We shared the information with the Boston Regional Intelligence Center as well as the Fusion Center. This is protocol, to let them know what was going on," he said. "… Homeland Security actually advised me [all the calls] came from the same number. So we know we had three calls."
The Federal Bureau of Investigation is following a lead it received regarding the phoned-in bomb threats, although BUPD detectives will continue to investigate locally, Paré said.
Students expressed various opinions on whether they would have liked to be notified before the situation was determined safe.
Ngoc-Tram Nguyen, a College of Arts and Sciences junior, said she was disappointed she received the notification after the situation was cleared.
"I'd rather know ahead of time even if it turns out to be nothing, just because if it was something to be concerned about, and I didn't know and I headed over there, people could have gotten hurt," Nguyen said.
Jamie Lin, a Sargent College of Health and Rehabilitation Sciences senior, said she trusted the BUPD to decide the necessity of issuing a security alert.
"Instead of sending out a premature alert and scaring everybody, I think the reason they decided to send it after is because they didn't want to create that kind of panic," Lin said. "If they alerted everyone of every single threat that they ever get, I think that would overwhelm everyone and cause unnecessary panic."
Elizabeth Jago, a SAR junior, also said only some situations warrant a preliminary security alert, but she believes this was one of those situations.
"Not every tiny thing is a concern, but something like a bomb threat, especially after what happened last year [at the Boston Marathon], I think everyone should be aware, just so you're conscious of where you're going and who you're with, just to take extra safety precautions," Jago said. "Not necessarily that it's going to turn out to be something, just that it's better to be safe than sorry."