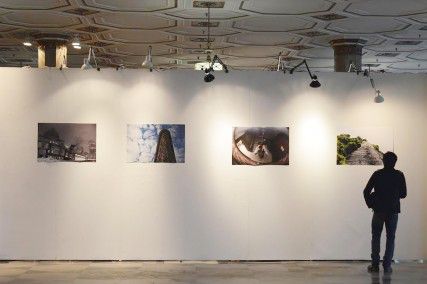 To honor the life of Boston University student Diego Fernandez Montes, who passed away over Spring Break, over one hundred people attended the "I Am Not An Ostrich" photo exhibition held at BU's 808 Gallery on Friday.
The exhibition, which was organized by BU's Mexican Students Association Mexas at BU, featured 25 photos taken by Fernandez, a College of Arts and Sciences freshman who passed away in March, said Lorraine Ziegler, Fernandez's friend who organized the gallery.
"Diego started to become really passionate about taking pictures," Ziegler, a CAS sophomore, said. "The day before spring break, he went out into the city for two-and-a-half hours and just took pictures of everything. He came over to my dorm later that night and shows me like 250 pictures he took just from that night … I remembered that I had the pictures so I told his friends and his roommate and the Mexas, and they all came up with the idea of displaying his work."
Photos at the exhibition included photos taken from the memory card as well as pictures from Fernandez's blog. The pictures were chosen regardless of theme and with the goal of showing Fernandez's perspective of the world, Ziegler said.
"We were going to pick a city theme but we decided against it just because there are some beautiful pictures about nature," she said. "Diego loved the city and living in the city, but he also loved nature, so we decided to show both. I think they both represent him and what he believed in. These pictures are the way he sees the world. It is his perspective."
Ziegler said she and the other organizers wanted to give people the opportunity to understand what kind of person Fernandez was and showcase his perspective of the world.
"I wanted to do it personally to show his talent, especially to those who did not know him or did not have the fortune to really know Diego," she said. "I just wanted to show the world what an amazing and talented student and person he was."
Paola Peynetti, president of Mexas at BU, said the best way to honor Fernandez's life is through his love of photography.
"We just thought that we needed a way to organize an event that would honor Diego's passions and talent," Peynetti, a CAS and School of Public Health junior, said. "What's a better way than to show his photography? He was really into photography before going back to Mexico, and I think he would have wanted to do this when he was here."
Attendees who did not know Fernandez as well as his friends can understand him better through the photos at the exhibition, Peynetti said.
"I am glad that his friends came to see his talent and people that did not know him got to know him just through his photos," she said. "I think this is uniting people who knew Diego, the Mexican community here and also everybody who loves photography and wanted to appreciate someone's work, even if he is not here."
Clara Gross, a sophomore at Northeastern University and Fernandez's friend, said his positive attitude was what she would remember the most about him.
"The most important part to remember about Diego is that no matter how bad things got, he would always have a smile on his face," Gross said. "I like to think that part of him rubbed off a little bit into everyone."
Teddy Kahn, a CAS freshman and Fernandez's suitemate, said the exhibition is ideal for celebrating the life of his friend.
"After a certain period of mourning, everything should be a celebration of his life," he said. "There are very few things that Diego loved more than photography, and I think he would have loved to see this many people appreciating and admiring his photography."