Despite a slow start to the season offensively, the Boston University women's lacrosse team has found its stride in the attacking end this past week.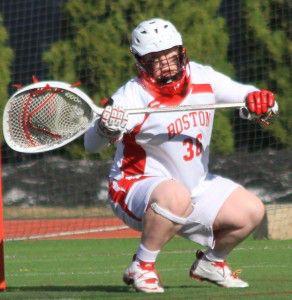 Facing non-conference opponent University of New Hampshire last Wednesday, the Terriers (6-6, 4-1 Patriot League) put up their highest goal total of the season in a 19-9 victory. On Saturday, BU squared off versus Lehigh University in a hard-fought Patriot League matchup that ended in a 12-11 double-overtime loss.
Between these two games, the Terriers scored 30 goals. During its previous four games combined, BU managed a mere 32.
"We're really starting to apply what we've been practicing into game situations," said BU coach Liz Robertshaw. "[Senior attack] Elizabeth Morse, [senior midfielder] Becca Church and [sophomore midfielder] Jill Horka have really gotten some great opportunities lately, and they're converting."
Morse has led this potent offense over this stretch, posting seven goals in the past two contests. The Needham native leads the team with seven free-position shot conversions and sits behind Church with 15 goals.
"She's really stepped up for us this year," Robertshaw said of Morse. "She creates great opportunities for herself and teammates. I don't think she's afraid anymore to put the team on her shoulders."
Close calls
The Terriers have won six of their last eight games, but this recent success has not come without its fair share of tight contests.
Nine of BU's 12 games so far this season have been decided by less than three goals. Five of these games, in fact, have ended in a one-goal margin, including Saturday's double-overtime loss against the Mountain Hawks (6-6, 3-2 Patriot League).
"[The team has] shown that they're up to the test," Robertshaw said. "Even in the Lehigh game, we fought back and we showed true character of our team when we fell behind early."
BU owns a 4-1 record in one-goal games, with one of these wins snapping the U.S. Naval Academy's three-year win streak in the Patriot League. The Terriers are also undefeated on the road this season in one-goal games, with all three of these victories coming against Patriot League opponents.
"Nothing rattles us," Robertshaw said. "This team doesn't get nervous when they fall behind, or when a team comes back from a deficit. I think we stay true to ourselves regardless."
Goalkeeping carousel
Over the past few weeks, the Terriers have been the beneficiaries of good play in net from not one, but two goalkeepers.
Freshman Caroline Meegan and senior Christina Sheridan have each seen significant playing time in goal over the last three games, both posting successful numbers. Against Lafayette College, Meegan saw action in the first 33:55 minutes of the game before Sheridan came in to play closer, earning the victory in the process.
This pattern continued versus UNH (6-7) when Meegan played the first 44:44 before Robertshaw replaced her with Sheridan. This time, Meegan earned her fifth win on her freshman campaign.
In Saturday's loss, Meegan struggled throughout the first half, giving up five goals in 17:56 minutes of play, saving one shot. Robertshaw was quick off the draw this time, subbing Sheridan in for the remainder of the game. Though she got the loss, Sheridan saved six shots in just over 54 minutes of play.
"They're definitely gaining more confidence as the season goes on," Robertshaw said. "They're each playing well too, which makes the decision on who to play a bit easier."
According to Robertshaw, both goalies are fighting for a starting spot, but she's in no rush to make a snap decision with the way her netminders have been playing of late.
"They challenge each other every day of practice," Robertshaw said. "Since they're both fighting for a spot, they get the best out of each other."