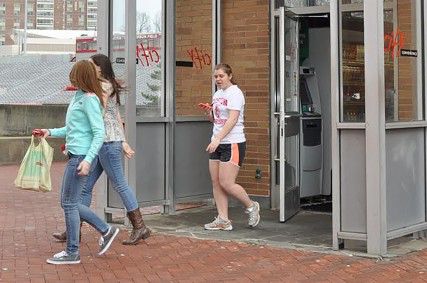 Students who forego using plastic bags at the Sleeper Hall City Convenience store will receive a 5-cent discount on their purchase during the month of April as part of a pilot program launched by the Boston University Student Government Department of Environmental Affairs.
The program is intended to discourage the use of unnecessary plastic bags on campus and therefore reduce BU's plastic waste and carbon footprint, said SG Director of Environmental Affairs Danielle Elefritz.
"We ultimately hope the program fosters discussion and that students become more aware of where plastic bags come from and how significant of an impact foregoing one can have," said Elefritz, a junior in the College of Arts and Sciences and the College of Communication.
The number of plastic bags used throughout April will be compared to previous years' data for the same month. The pilot program will be considered a success if it results in at least a 10 percent decrease in plastic bag use, Elefritz said.
If successful, the program may be expanded to similar City Co. locations such as those in the George Sherman Union and Warren Towers. But for now, the West Campus location serves as an ideal venue for the pilot program, Elefritz said.
"The Sleeper location is most frequented by students rather than city dwellers or visiting parents," she said. "It will give us the opportunity to best gauge the student response to such a program, which will be extremely helpful for moving forward."
The Department of Environmental Affairs also seeks to implement a more permanent program. Depending on the success of the incentive program based on student feedback, the department may consider pursuing up to a10-cent tax on plastic bags, Elefritz said.
The pilot program is one example of the progress BU has made in recent years to reduce its carbon footprint, Elefritz said.
"Diverting from petroleum byproducts, such as plastic, is a small but critical step in moving away from our dependence on nonrenewable fossil fuels," she said. "… We also hope students get behind the initiative and pressure other organizations using plastic bags in our community to do something about it."
This is the first step City Co. stores have made toward trying to become more sustainable, said Elliott Cintron, manager of the Sleeper Hall City Co. location.
"We're trying to promote a better BU, to show people that we're trying to make a better impact on the world," he said. "It's kind of like what we've been doing with the dining halls with the Make a Difference Monday, or the white meats and the cage-free eggs. We're just trying to do better."
Aditi Shastry, a junior in CAS, said she believes the program is a great idea in part because of the monetary incentive.
"College students are always looking for a new deal or a way to spend less money, so if they could be rewarded for not getting a plastic bag I'm sure they'd do it," she said.
COM sophomore Cosette Perez said a larger incentive would be necessary for the program to be impactful.
"If [you're buying] a lot and you need a bag, I don't think 5 cents is going to make a huge difference," she said. "I don't know a lot of people that take reusable bags to City Co. if they already live in West, because they can just carry it up. Maybe if it were a larger amount of money they would probably want to [bring reusable bags] more."
Courtney Splaine, a CAS senior, said she will participate in the program and believes it will be successful because of how conscientious BU students are.
"You have a good population that would [participate]," she said. "I think that if you tell them more about it, why it's good to cut down on plastic, [then] more people would like to join in on it. Kids here like to be educated and make the right decisions, so I think that they would do it."