Struggles to come through with a hit with runners in scoring position led to a 5-4 loss at the hands of Dartmouth College for the Boston University softball team Wednesday afternoon. On two occasions, the Terriers loaded the bases with no outs but could not make the most out of their opportunities.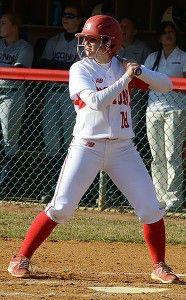 The team's inability to drive in runs with runners in scoring position was the root of its loss, according to BU coach Kathryn Gleason.
"We just didn't execute when we needed to," Gleason said. "I don't think we played all three facets of the game today."
What the Terriers (19-15, 4-2 Patriot League) had difficulty with, the Big Green (19-13) did well with on Wednesday.
"They just took advantage of the opportunities that we gave them," Gleason said of Dartmouth. "We just didn't play our best today in all three facets of the game. When we had the opportunity to close the door, we just didn't do that and when we had opportunities at the plate, we just didn't execute."
The issue of knocking in runners was uncharacteristic for the Terriers. On the season, the Terriers are hitting .339 with runners in scoring position, led by senior outfielder Jayme Mask, freshman third baseman Brittany Younan and senior shortstop Brittany Clendenny, who are hitting .500, .395 and .333 with a combined 31 RBI in that situation.
Gleason said the work of improving with hitting with runners in scoring position will come in situational hitting drills.
"We do talk about that in practice and put those situations into practice," Gleason said. "We put them in those positions where we are putting runners on second and third base and do it in practice so they can see that and feel it and be comfortable in those situations when they are in those situations."
The game was not devoid of positives for the Terriers though, as senior catcher Amy Ekart and Younan gave great individual efforts. In three at-bats, Ekart had two hits and two runs scored. Younan continued her strong freshman campaign with three hits in four at-bats and a run scored. Clendenny also added a hit and drove in two runs in the loss.
"That part of the lineup did a great job of getting on base and making things happen at the plate," Gleason said. "They made adjustments and just made those adjustments and got us some base runners and we got them in scoring position and they gave us a chance."
Sophomore Lauren Hynes pitched her 12th complete game of the season, tossing six innings, allowing 10 hits, five runs, three of which were earned and six walks, and had two strikeouts. Dartmouth used a three-run fourth to stay ahead in the game, but only one run was earned due to sloppy Terrier defensive play. The deciding fifth run ended up coming in the fifth inning when Hynes allowed a run-scoring single to first baseman Kristen Rumley.
During the game, Hynes struggled to consistently pound the strike zone. On the season, Hynes has 64 walks and 56 strikeouts and opponents are hitting .281 off the southpaw. Despite Hynes being the only pitcher active right now, Gleason said she is not worried about the San Diego native tiring down.
"She's just getting better," Gleason said. "The more you do things, the more endurance you gain and I think that's what's happening with her. She's given us a chance on the mound and that's all we're asking of her.
Gleason said she is not fretting about Hynes' propensity to walk hitters, as she said the pitcher's ability to induce ground balls makes up for the lack of strikeouts.
"She just needs to get ahead and we she gets ahead and she's focused and barreling down and getting them," Gleason said. "Sometimes you get ahead and give up two straight hits and just barreling. When you're ahead, you're in control. She can shut the door. We just need a ground ball or a fly ball. That's all we're asking."
Gleason took away two things she said the team needed to improve on before Thursday's matchup against Boston College and this weekend's series at the College of the Holy Cross.
"We need to score with runners in scoring position and put the ball in play," Gleason said. On defense, we need to pick up the ball and play catch. It's that simple."