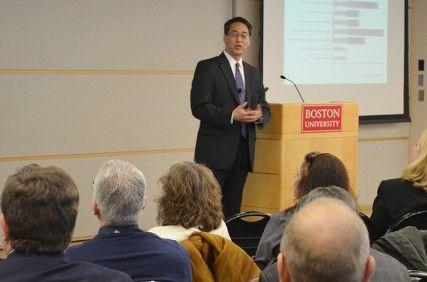 The Boston University ad hoc Committee on International Student Experiences and Institutional Impact held a town hall meeting Friday to address issues and concerns of university students, faculty and staff regarding the international student population.
More than 50 people attended the town hall, which took place at BU's Photonics Center.
"What we wanted to do is hear from the community," said committee chair Willis Wang, vice president and associate provost for Global Programs. "This is part of a very concerted effort of outreach to listen, to hear and to gather comments."
There are 7,081 international students currently enrolled in BU, Wang said. The international student population is majorly concerned about issues with academic support, interaction between domestic and international students and mental health.
Director of Student Health Services David McBride said 21 pecent of BU students hospitalized this year were international, a significantly higher proportion compared to previous years.
Some international students may not take advantage of the services offered by SHS, which would explain the increase in international student hospitalizations, McBride said.
"Our international students are less likely to perceive the need for help in the realm of behavioral medicine," he said. "They are less likely to feel a need for help even when they actually screen positive for anxiety or depression."
McBride emphasized the importance of having employees in SHS from a range of backgrounds.
"It's incredibly difficult to recruit culturally diverse mental health workers because they are extraordinarily in demand in and around Boston," he said.
College of Communication Writing Center Assistant Director John Hall said 75 percent of all of COM writing center appointments are with international students and two-thirds of these international students are from China. He said he hoped to hire a greater number of international, Chinese speaking tutors for next fall.
"It's important that we look at how to make it [the writing center] so that it's not all white American tutors, and then you have all non-white Americans as the clients," he said.
Mihoko Maru, a Japanese research fellow at BU's School of Social Work who plans to start an international student support group, said she attended the town hall to better understand the resources BU offers to its international students.
"There was a disconnect between what I was thinking and what the university can offer the students," Maru said. "What I appreciated the most was the attitude that some of the people were sharing. They were saying that we, as in the non-international students and staff, have to change the attitude toward international students at the university."
Maru said when she first came to BU, she struggled to acclimate to life at the university.
"It feels like I did all of the work to adjust to the American university life," she said. "It would be great if the university also did their share of the work, too."
Latifah Azlan, a College of Arts and Sciences junior from Malaysia, said she found it unfair that BU forces students to move out during official breaks.
"For international students especially, it is not feasible to go back [home]," she said. "On top of that, you have to pay extra [for vacation housing]."
Azlan said she was pleased to hear that BU officials were conscious of international students' concerns at the town hall.
"The faculty and the staff really want to help international students which is really heartening to hear," Azlan said. "It makes me happy because I know that they don't just see us as another student in the class. They see us as someone who they do want to help, and they want us to succeed."