Despite early success in its new conference, the Boston University women's lacrosse team now stands at 4-3 in Patriot League play after dropping three consecutive conference games.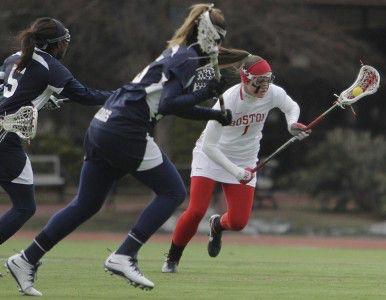 The Terriers (6-8, 4-3 Patriot League) first four contests against conference foes were victories. They edged American University 12-11 onMarch 8, the College of the Holy Cross 8-6 on March 19, the then-No. 14/19 U.S. Naval Academy 9-8 on March 22 and Lafayette College 9-8 on March 29. Going into April, BU was undefeated in the conference.
However, the month of April has not been as kind to the Terriers. They have fallen to Lehigh University 12-11 on April 5, Colgate University 11-7 on April 9 and then-No. 14 Loyola University-Maryland 19-8 on April 12.
"There are just some times when we lack in communication," said BU coach Liz Robertshaw. "In tough moments or in the play, we get a little quiet and get our blinders on.
"When we lack communication, we make mistakes. That's come to hurt us the past couple of games. We're looking to remedy it. We've discussed it with the team and we're working on it in practice."
BU is fifth in the conference, and has already qualified for the Patriot League Tournament. They are tied with both Colgate (6-7, 4-3 Patriot League) and Lehigh (7-7, 4-3 Patriot League) in the standings. However, BU holds the worst overall win percentage of the three, coming in at .429 compared with Colgate's .462 and Lehigh's .500, which hurts BU's playoff seeding.
But Robertshaw said despite the late issues, the team is just happy to be playing in a postseason tournament after not being able to do so in 2013.
"We are excited we earned it [a spot in the Patriot League Tournament]," Robertshaw said. "It was one of our goals this season, especially after last year where we didn't place."
Difficulty with ranked opponents
This past Saturday's game against Loyola (11-4, 7-0 Patriot League) was BU's sixth matchup against a ranked team. The Terriers have had some trouble battling against ranked squads this season, winning just one of the six contests.
The Terriers' five losses against ranked opponents came versus then-No. 1 University of North Carolina, then-No. 2/3 University of Maryland, then-No. 10/11 University of Massachusetts Amherst, then-No. 14 Johns Hopkins University and the Greyhounds (19-8) this past Saturday.
"When you're playing teams ranked in the top-10, it's always going to be a challenge," Robertshaw said. "When you make mistakes, these teams will make you pay. Loyola did it, Maryland did it, Johns Hopkins did it and so did UNC. That's what makes them ranked teams."
Their sole victory versus a ranked team came against the Midshipmen (14-1, 6-1 Patriot League) in a 9-8 nail-biter.
"These games show us what we need to do better and how to raise our game to that level," Robertshaw said. "Until then, we're going to struggle against those teams."
BU is set to take another ranked opponent in No. 4/6 Boston College on May 3.
Horka shines
Sophomore midfielder Jill Horka has gained a great deal of attention this season, and for good reason. The Westborough native has not only played a great two-way midfield on the campaign, but has also received four awards for her performance.
Horka has contributed greatly on the offensive end. She is tied for third on the team in goals (16), stands fourth in points (20), leads the Terriers in ground balls (27), caused turnovers (20) and draw controls (23).
Despite the loss, Saturday's game against Loyola was no exception for Horka. Her unassisted goal in the second half extended her point streak to 11 games.
"Overall, [Horka is] really taking chances and utilizing her athleticism to her advantage," Robertshaw said.
Horka's performance this season has received notice from the Patriot League. On March 24, Horka was named Midfielder of the Week for her outstanding contributions in contests against Holy Cross (5-11, 3-4 Patriot League) and Navy. Horka received the same honor again on March 31 after defeating Yale University and Lafayette (6-10, 2-6 Patriot League).
The Patriot League also granted Horka the Rockin' Refuel Performance of the Week Award on March 26 after she recorded four goals and an assist during the two-game stretch against Holy Cross and Navy.
Horka added a Student-Athlete of the Week honor to her accolades from GoTerriers.com on April 1. The award honored Horka's performance both offensively and defensively against Yale (8-5) and Lafayette.
"She's had a great sophomore campaign and I'm excited to see where she goes what she can do in the future," Robertshaw said.