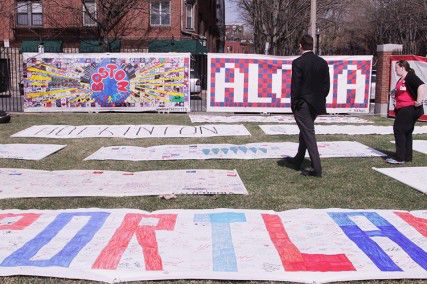 Almost a year after the Boston Marathon bombings, Boston Medical Center hosted a flag-raising ceremony on Monday in remembrance of the tragedy.
The ceremony, which was held on the lawn outside the John Joseph Moakley Courthouse and was attended by about 100 BMC medical professionals, residents and medical students, emphasized unity, hope and the care BMC has provided and will continue to provide for marathon victims and other victims of violence.
"This one year anniversary is an emotional time for our campus and across our city, but it is also time to be grateful for our strength and resilience as a hospital and a community," said BMC President and CEO Kate Walsh. "Last Marathon Monday was different. That day and the days that followed, the character and compassion of BMC and in every corner of our hospital was revealed for the whole world to see."
Irish singer Dr. Ronan Tynan performed "God Bless America" as the flag was raised. During the ceremony, sections of the America 4 Boston Prayer canvas, featuring artwork and messages of support for the victims, were displayed on the lawn. The public had the opportunity to sign BMC's canvas, which will be displayed at Boston Common and Fenway Park later this month.
John Odom, who was a patient at BMC after sustaining critical injuries from the bombing, spoke as the ceremony's guest of honor and expressed his gratitude to BMC for the work they have done for Boston and the community. Odom and his wife Karen presented a plaque to BMC to show their appreciation.
"When I arrived here a year ago, my outcome was uncertain," he said. "I didn't know if I'd ever walk again. I stand here today in front of you to thank you personally for saving my life."
Dr. Peter Burke, BMC's chief of trauma services, said emergency medical responders, BMC employees and other medical care specialists complete the work needed to ideally balance the evil in the world.
"While we've always strived to provide exceptional care, our response to the bombing revealed a new standard of exceptional care," he said. "With skill and hard work and the overwhelming tenacity of patients, everybody survived and made it to the next step with spirit to continue on."
Following the marathon, BMC served the emotional and physical needs of many victims, in on case, coordinating a visit for a newlywed couple separated in the aftermath of the marathon, said Mary Jo Pedulla, BMC's director of nursing for maternal child health and interim chief of critical care.
"We provide exceptional care without exception to all our patients here at BMC," she said. "Our patient's needs are never too big or small, and our nurses demonstrate that in ways that are nothing short of amazing."
Several attendees said the ceremony was a way for them to celebrate the city's resilience and cope with last year's tragedy.
Kirsten Levy, 62, of Newton, a faculty member at the Boston University School of Medicine, said she was at last year's marathon as a volunteer.
"I volunteered at the marathon last year and will again this year working in Hopkinton at the starting line," she said. "It seemed like Odom spoke from the heart. I'm sure most patients feel the same way."
Jessica Sokol, 24, of Boston, and a student at the BU School of Public Health said the flag-raising ceremony emphasized importance of reflecting on what happened last year and appreciating everyone who helped the victims.
"Every time we talk about the event it gets easier," she said. "It's good to just talk about things and to just feel everything that happened."
Sandra Ordonez, 50, of Boston, said she appreciated what Odom had to say and respected his strength and character.
"It takes courage to come back to the place where you suffered so much and to thank the people around you for their hard work," she said. "It's a simple, nice reminder for us all that when people come together, they make things happen."