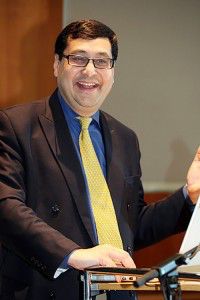 Boston University announced  Monday the appointment of professor of international relations Adil Najam as the inaugural Dean of the Frederick S. Pardee School of Global Studies, a new division of the College of Arts and Sciences dedicated to exploring international issues.
"The goal is to really do something unique, transformational, in how we deal with global issues," Najam said. "The world has become global in a very truly, deeply, seriously integrated fashion, in a way that it hasn't ever before in humanity, and education needs to catch up with that."
Colin Riley, BU spokesman, said Najam is extremely qualified for the position.
"It's a terrific appointment," he said. "The President, Provost and Dean of the College of Arts and Sciences have said as much. Adil Najam certainly led the Pardee center during a formative period and is well suited to serve as dean in this new program."
Najam said he hopes the Pardee School of Global Studies improves how citizens deal with issues such as peace, prosperity, sustainability and poverty in an increasingly interconnected world, and though the issues are not new, the program would tackle them in a new way to adapt BU's education system to the globalized world.
"Employers are looking for a certain type of student," he said. "The aspiration here is really to produce a whole generation of leaders who can lead in all sorts of fields at a global scale."
The Pardee School of Global Studies, which will open in Fall 2014, will be divided into regional and international studies to equally address both aspects of globalization.
"How we think about the world, we suddenly get very interested in one country or another. Here we are saying make the scale bigger," Najam said. "We want to take regional issues as importantly [as international issues], because that's how the world works."
Research centers throughout the university will be moved to one central location in the Pardee School of Global Studies, Najam said. CAS students who major in international relations will be part of the new school as well, he said.
"BU has long been a uniquely global place," he said. "You just need to walk down Commonwealth Avenue to see how truly global it is — the faces you see, the people you see, the places where they come from."
Najam said he felt obligated to be open to input from students, faculty and administration on how to improve the Pardee School of Global Studies' curriculum.
"[Our goal is] to make the global program at BU really shine and stand out above other universities so that we give our students something special," he said. "I'm excited because we have the ability to do something very unique. If we succeed here, the hope is that other universities would follow us."
Bridget Daly, a sophomore in the College of General Studies, said the Pardee School of Global Studies appealed to her interests in advocating for human rights.
"I briefly looked into international relations, but I wanted something more similar to this," she said. "I wanted something more along the lines of global servicing and making sure that there is equality everywhere, so it [the Pardee School of Global Studies] sounds really cool to me."
Swanson Ninan, a junior in CAS, said he was excited to see what courses the Pardee School of Global studies would offer in the fall.
"It sounds like it's going to have a huge impact on the student population," he said. "It brings together a whole aspect of studies that combine a bunch of different forms."
College of Communication senior Emily Iuliano said she was impressed by BU's efforts to enable its students to make impacting, global changes.
"A school like this that is trying to find leaders for the future [will] be able to … have students reach their full potential because it focuses on leadership," she said. "It helps people figure out what they're good at and what they're interested in."
Jaime Bennis contributed to the reporting of this article.