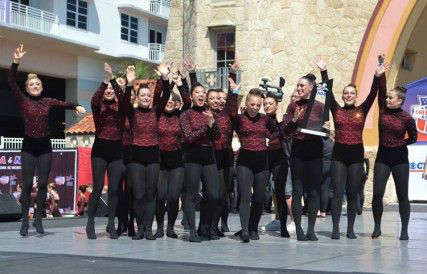 The Boston University Dance Team took first place Saturday in the Division 1 Hip Hop category for their routine, inspired by Boston's recovery from the 2013 Boston Marathon bombings, at the National Cheer and Dance Alliance Collegiate National Championship in Daytona Beach, Fla.
"Winning a national title was beyond all of my wildest dreams," said co-captain Michaela Main, a senior in Sargent College of Health and Rehabilitation Sciences. "It is a milestone I hoped this program would eventually see. I just never imagined it would be in my time."
BUDT Co-Captain Alyssa Marion, a College of Arts and Sciences senior, said the team aimed to embody Boston's recovery from the Marathon bombings through their performance.
"We wanted to represent the strength and resilience of the city with our Boston Strong routine, and we definitely were able to do that," she said. "We were able to connect with our routine and show our heart in ways that other teams weren't able to do."
The team danced to music they felt was representative of Boston's recovery, including "Hometown Glory" by Adele, "I'm Shipping Up to Boston" by the Dropkick Murphys and "Can't Hold Us" by Macklemore and Ryan Lewis.
Marion said the BUDT "defined resilience" this past season after three members left the team, which suffered from major performance-related injuries and tackled the Hip Hop competition for the first time.
"Having to balance two nationals routines is enough of a challenge, but what most people don't know is that our girls came to BU first and foremost for academics," she said. "Not a single girl on our team was recruited, nor given scholarships of any kind, so the Dance Team is a secondary commitment to us. To have our girls succeed both academically and athletically is unbelievable."
Marion said earning the national title required countless hours of practice.
"Training for Nationals started day one," she said. "Practices were harder than they have ever been, as the team had to balance training between Team Dance and Hip Hop. We didn't want to sacrifice either routine by training for the other, so we had to just amp up training and practice all around."
The team also placed second in the NCA & NDA Division 1 Team Dance competition.
BUDT Co-Captain Kelly Mar, a senior in SAR, said she is still in shock since accepting the team's award.
"We had zero expectations," she said. "Winning the national title for Division I Hip Hop was the most unexpected, yet hard-earned victory this team could've ever experienced."
BUDT Head Coach
said the team won the national title by a slim margin.
"Before they announced second place, the announcer stopped to tell the crowd that there was less than one-tenth of a point between the top two teams. I knew at that point that it could go either way," she said. "Before I could react, Kaitlyn and the team's choreographer were hugging me. It's a moment I will certainly never forget."
Despite the tenacity the team had during training, Stilwell said she never expected the team to bring home the win.
"Our goal was to perform the routine with no mistake," she said. "It was really the energy and strength the team brought to the stage that won them the national title."
The 17-member team also wore shirts featuring the words "Run 617" and had "BU" embroidered on their hats, Stilwell said.
"The team's motto for Hip Hop was 17 Strong," she said. "It certainly took all 17 of them to capture the national title."
Main said that the team was honored to have the opportunity to pay tribute to the city of Boston.
"We had to pour our hearts into this dance," she said. "Representing our city in this way was an honor and responsibility and we had to do it the justice it deserved."