Looking to get back into the win column for the first time in two weeks, the Boston University women's lacrosse team will head to Cambridge Wednesday night where the Terriers will face off with Harvard University.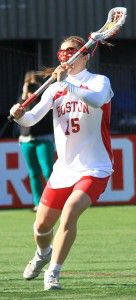 The Terriers (6-8, 4-3 Patriot League) started off their first year in the Patriot League with a good run, winning its first four games in their new conference. But after the strong beginning, BU has encountered a bumpy road of late, dropping its last three games, all Patriot League contests. Though the team has already clinched a spot in the conference tournament, the Terriers are seeking some momentum heading into the postseason.
"We need to focus on our game plan and how we should be playing as a team," said BU coach Liz Robertshaw. "That's been a focus for us the past couple days. We're trying to work out the kinks in our system and feel good about the game that we're playing both offensively and defensively."
In the team's last contest against No. 14 Loyola University-Maryland, the Greyhounds (11-4, 7-0 Patriot League) came out strong on the attack and took an early lead. On the strength of sophomore midfielder Jill Horka, the Terriers pulled within four goals with over 25 minutes left in the second half of the contest.
But Loyola proved to be too much in that contest, and eventually pulled away at the end of the second half with seven unanswered goals to close out the game for a 19-8 win.
The loss for the Terriers was not devoid of bright spots, as Horka continued her stellar play. With her unassisted goal in the second half, she extended her point streak to 11 games. Her classmate and fellow midfielder Ally Adams was also a force on the field. She turned in a career-best day, collecting four points during her hat-trick performance. She now has 11 points on nine goals and two assists.
To have success for the remainder of the season, BU will need to gain some balance in its attack. Heading into its final two games of the regular season, the Terriers are in the middle of the pack in most offensive categories, sitting in the fifth spot in both goals per game (9.14) and points per game (12.14).
"We've identified it [the problem] and we've talked a lot about the way to get looks for different people," Robertshaw said. "We just want our players to want the ball on their sticks and take some chances. We had a good day in practice today and I'm looking forward to seeing it transition to the game tomorrow."
On the defensive side of the field, BU has been helped out in net by the duo of freshman Caroline Meegan and senior Christina Sheridan. Last time out it was Sheridan who got the start, playing the first 15:43 before Meegan replaced her. The freshman came in and did a strong job, stopping 11 Greyhound chances.
In her first year, Meegan has been a force in goal. Her .426 save percentage is good for fourth in in the Patriot League, and her 6.85 saves per game are third-best in the conference.
"It's been huge for Caroline to go in there and lead our defense," Robertshaw said. "She's really steadied our defense and they feel confident with her in cage. It's not often where a freshman can step up and lead us in big games, which is a credit to her."
The trip across the river may provide a challenge for whichever goalkeeper makes the start. The Crimson (7-5) have won three out of their last four games, tallying at least 10 goals in those three victories. This season, Harvard has scored near the 10-goal mark in just about every game, averaging 10.42 per game.
This high-powered offense has been led by attack Marisa Romeo. In just her first year at the collegiate level, the Syracuse, N.Y. native has taken the Ivy League by storm. After being named All-Central New York Player of the year in 2013, she has continued her success with the Crimson, scoring 39 goals through 12 games, which leads both Harvard and the entire Ivy League. In Harvard's last outing versus Princeton University on April 12, she added two goals in the 15-6 loss.
"There's not going to be one person that's going to stop her [Romeo], it's going to have to be a team effort," Robertshaw said. "We're definitely aware of her. We've watched video of her a few times. It's going to be a team job to slow her down and limit her chances on net."
Another underclassman, sophomore Alexis Nicolia, has also been a large contributor to the offense this season. A year after scoring 23 goals for the Crimson, Nicolia has put up similar numbers in 2014, and has 17 goals and seven assists thus far.
Despite struggling lately against high-scoring offenses, the Terriers feel confident going into their matchup versus another potent attack.
"Today we had a good breakthrough on how we want to play," Robertshaw said. "The team definitely feels good going into tomorrow."