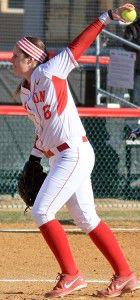 The Boston University softball team will look to improve its Patriot League standing this weekend during a three-game series at Colgate University.
After dropping two of three games against Patriot League opponent College of the Holy Cross, the Terriers (20–18, 5–4 Patriot League) will start off this weekend road trip versus the University of Massachusetts Lowell.
BU is locked in a tie for third place in the conference with Holy Cross (7–16, 5–4 Patriot League) and the U.S. Military Academy. The Raiders (9–20, 2–7 Patriot League) sit dead last in the conference.
Before heading up to Hamilton, N.Y. to play the Raiders, BU will face off against the River Hawks (8–25), who have lost seven of their last eight games. The Terriers' key to success against the River Hawks will be building on its most recent performance, said BU coach Kathryn Gleason.
"We started to do it on Sunday by just being confident at the plate and being confident on defense as well," Gleason said. "We focused on communicating, and our energy, and our attitude and I thought we did a good job of that on Sunday. We're just looking to continue to do that tomorrow and take that into the weekend."
Following their quick excursion to Lowell, the Terriers will play three crucial games for their Patriot League standing. Colgate has struggled at the plate this year, hitting only .225 as a team with a .301 on-base percentage. On the other hand, opponents are hitting .318 with a .385 OBP against the Raiders. Though a favorable matchup, Gleason understands the importance of these conference games.
"It holds a lot of value," she said. "The conference is what we're trying to win, and getting seeded for the conference tournament takes us to the NCAA Tournament. Conference games are definitely important and the games during the week are just as important. We need those to gain our confidence and take us into the weekend."
Gleason said that playing aggressive defense would lead to success against the Raiders.
"We did a lot of defense, especially today," she said. "We focused on communicating and attacking the ball. I don't think we did that a lot this weekend, so just working on communicating and being aggressive. We played a little timid on defense and that timidity held over to offense. We need to take that aggressiveness into the offensive part of the game."
Sophomore pitcher Melanie Russell and freshman pitcher Makinna Akers both made their return to the mounds this past week after being sidelined by injury. Since returning from her injury, Russell has pitched 3.1 innings, allowing two runs and striking out six hitters. Akers has hurled eight innings, allowing five earned runs while striking out two batters and walking two.
Sophomore pitcher Lauren Hynes has paced the BU rotation all season long, tossing 13 complete games. Although her 13–13 record indicates average quality, the San Diego native has provided a workhorse mentality, which persisted through the injuries to Russell and Akers. Hynes has allowed just nine homeruns in 31 appearances this season, while maintaining a solid 3.81 earned-run average.
Gleason said she was happy to regain flexibility in the rotation after throwing Hynes for thirteen straight games.
"It was great to get them back out on the mound and get them some innings," she said. "Makinna hadn't been out there in two weeks and Mel since spring break, so just getting them in the game, getting them some innings and getting them comfortable on the mound.
"They are each different pitchers, just approaching the games differently."
Despite Colgate's weak record, Gleason believes past wins and losses are irrelevant once the first pitch is thrown.
"The game doesn't care about what the records are or if we've got a win streak or who's last in the conference or who's first in the conference," she said. "We just approach every game as the game. We play the game. We don't underestimate anybody.
"We'll be ready and prepared this weekend against Colgate."