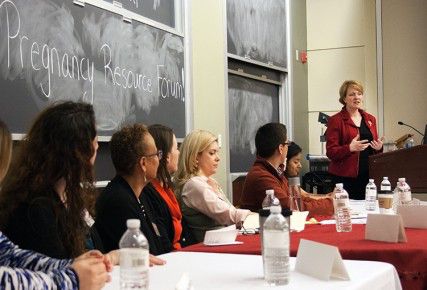 Looking to provide resources and support for pregnant and parenting students, Boston University Students for Life hosted a Pregnancy Resource Forum Wednesday.
BU employees from campus resource centers, such as Student Health Services and Family Resources, sat on the panel, which also featured representatives from the Boston Center for Pregnancy Choices and Feminists for Life.
"I was a junior in college when I became pregnant," said Sally Winn, vice president of FFL, who moderated the eight-person panel. "I didn't have any place to live. There was no housing for undergraduates. Through my family, I was able to raise a family and finish my education at the same time, but if you look at the statistics that doesn't happen very often."
Winn said those who sat on the panel did not aim to debate abortion or other hot-button pregnancy issues, but rather foster discussion about resources and support systems available to undergraduate, graduate and post-graduate students at BU.
"What we're trying to do here is to work with the administration to change the policies on this campus so that there are more resources available for pregnant and parenting students," she said.
The forum focused on challenges pregnant students face while trying to finish their education, such as housing accommodations, day care services and financial, academic, health and emotional support.
Louis Vitti, a freshman in the School of Management and treasurer of BU Students for Life, said the forum was part of a greater effort to provide current pregnant or parenting students at BU with the knowledge and resources they need.
"At such a large university, it's inevitable that we will have a large number of undergraduate students become pregnant while they're here on campus," he said. "This event is a chance to bring to light all the amazing resources here on campus that we already have for them, but also to bring to light things that need to be improved."
Vitti said BU has an excellent system of health, academic and housing resources available to pregnant students, but there are small, often overlooked resources that pregnant students need the most.
"Things like housing options, diaper decks and lactation rooms [are important]," he said. "Putting out statistics, informing students of what percentage of the student population is pregnant, these will benefit us all."
Sargent College of Health & Rehabilitations Sciences senior Edgar Urbina spoke about the struggles he faced as a father and student, and the initial lack of resources available to him on campus. Urbina's daughter was born during his junior year.
"I will say that all the resources provided to me weren't readily available online as I was going through it all," he said. "Since then, things have really improved."
Although he was initially pessimistic about his future at BU after learning that he would be a father, Urbina said the BU community ultimately provided him with support and without their help, he might not have remained a student.
"It took a lot of maturity," he said. "It takes a certain personality, and realizing what it all means. But with all the support I got, it was doable. I would say to any student who is expecting that it's hard work. But it's rewarding."