On Monday, with temperatures reaching nearly 70 degrees, thousands of people watched the 118th Boston Marathon, where several new records were set and an American runner won for the first time in 29 years.
After two bombs went off at the 2013 Boston Marathon on April 15, 2013, the Boston Athletic Association took measures to ensure this year's marathon would be safe for all participants and spectators. BAA announced in August it would expand the field of runners to 36,000 to accommodate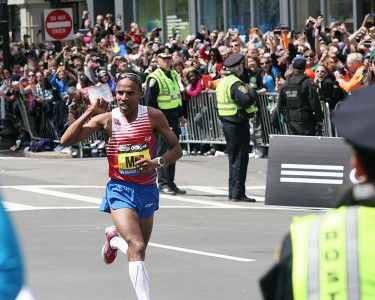 the recent spike in interest. This year's marathon had 35,671 registered runners, a significant increase from the 26,839 runners in the 2013 Marathon.
Of the registered runners, 95 countries were represented, with 83 percent of the runners from the United States. Boston had 1,914 total runners in the race, which was more than any other city.
Meb Keflezighi, 39, from San Diego, won the marathon with a time of 2:08:37, the second-fastest time by an American male in Boston. He is the first American male to win the Boston Marathon since 1983 and the first American to win since 1985.
This is Keflezighi's third career victory, as he also won the New York City Marathon in 2009 and the U.S. Olympic Marathon Trials in 2012. On Monday, he beat his previous personal best time of 2:09:08, but he did not beat the course record of 2:03:02, set by Geoffrey Mutai in 2011.
Several spectators said they were thrilled to see Keflezighi representing the community in the Marathon. Keflezighi honored the three victims killed in the bombings last year and the MIT police officer Sean Collier, who died in a shoot-out with the alleged bombers, by writing their names on the corners of his bib.
The women's winner, Rita Jeptoo, came in shortly after Keflezighi. The 33-year-old runner, of Eldoret, Kenya, crossed the finish line with a time of 2:18:57.
The 2014 Boston Marathon was Jeptoo's third time winning the race in Boston, after placing first in 2006 and 2013. This year, she beat her personal best time of 2:19:57 and also beat the female course record of 2:20:43, which was owned by Margaret Okoya, another Kenyan, in 2002.
The first American woman to cross the line was Shalane Flanagan, a 32-year-old Massachusetts native, currently living in Portland, Ore. She came in seventh place with a time of 2:22:02, which beat her personal best of 2:25:38.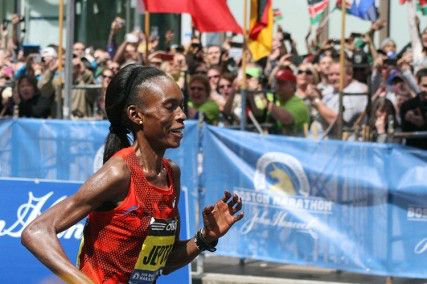 "The 2014 Boston Marathon will be run with overwhelming honor, passion and joy," Flanagan said in her biography on the BAA website. "Each step we take closer to the finish line is a victory in and of itself. It's hard to express what it means to return this particular year to the place where I grew up and compete. In one word, I guess it would be 'pride.' I and many in the field will be fueled by those who were affected by the tragedy and will be running for those who cannot."
The 2014 marathon also provided opportunities for those with disabilities to participate through the Wheelchair and Handcycle Divisions. Ernst Van Dyke won the Men's Wheelchair Division with a time of 1:20:36, and Tatyana McFadden won the Women's Wheelchair Division, coming in at 1:35:06.
For the Handcycle Division, Samuel Spencer took first place for the men with a time of 1:18:34, and Jessica A. Kensky, who lost her left leg in the bombings last year, won the Women's Handcycle Divison with a time a 2:14:13.
Spectators lined the streets from Hopkinton to Boylston Street, cheering for each and every runner, whether they knew them personally or not.
Herb O'Haran, 59, from Ottawa, Canada, came to the marathon with his entire extended family to support his niece, Jenn Sullivan.
"This is her first time running a marathon. She's 25 and just had a baby," he said. "We're from Canada, and we have the whole family here supporting her. My brother and his wife are here with me, and we have other groups stationed along the route, and we have more people back at the hotel taking care of the babies."
O'Haran's family has a long history of running marathons, but he said the Boston Marathon has always been a family favorite.
"My brother has actually run countless marathons, so many his knee is blown out," he said. "The Boston Marathon was always his highest ambition. He and my older sister have actually both ran the Boston Marathon."
Susan Mandeville, 64, of Lynnfield, said she had several friends running in the marathon this year for a variety of causes, which serves as proof that the Boston Marathon is about much more than the race itself.
"I'm here supporting my daughter's brother-in-law Matt Harrington, who's running it for the Red Cross, and my friend Mike McGordy, who's running it for the Children's Hospital," she said. "This is my sixth time watching it. It's amazing to see the strength and sense of the community in the crowd. I'm also so incredibly excited that an American man won today, it's poetic after what happened last year."
Martha Comment, 69, from Kansas City, Miss., attended the marathon with her grandson to cheer on her daughter.
"This is her ninth Boston Marathon, and she has run 30-something other marathons," she said. "Her best time so far is 3:11, but she just had a baby a few months ago, so she's aiming to do it in about three and a half hours."
Comment said her daughter is driven by the unique spirit of Boston and the way people come from around the country to support the Boston Marathon.
"[My daughter] lived in Boston for about five years and really loved it," she said. "She ran it last year also, but luckily finished about 30 minutes before the bombings … We both thought it was important for her to run it again this year. I love the energy, the people and all the activity. It's Boston Strong, but it's also just U.S.A. strong."