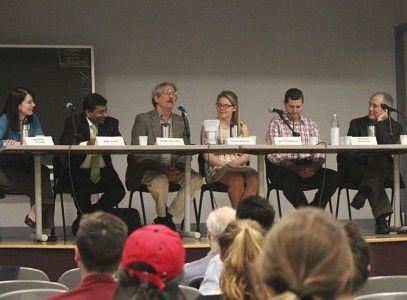 As concern for the environment is brought to light following Earth Day, a panel of professionals advised Boston University students about environmental awareness in business Wednesday.
"We wanted to bring in professionals to get a career aspect for students and also to provide information for them on what to do with their own careers," said Net Impact Treasurer Alex Wong, a School of Management sophomore.
The panel was organized by a number of student groups at Boston University including BU Net Impact, the BU Energy Club and the International Business Club.
"The panel showed that it's entry jobs and internships that will actually steer you in the right direction even if you start out somewhere else," said Net Impact Secretary Patricia Zundritsch, a College of Arts and Sciences junior. "It was also creating more awareness about sustainability in general and really showing that there are people out there that can make an impact if they are in corporations."
Among the topics discussed at the panel was the "utility death spiral," which is caused by people relying on sustainable technology to replace utilities, said panelist Brett Feldman, a senior research analyst at Navigant Research.
"The fewer people there are on the grid, the higher the prices will keep going up until there is one person on the grid paying for the whole utility," he said. "There is a lot of debate about whether utilities will crash and burn."
Although the global trend of growing cities requires more energy to power them, 1.3 billion people in this world have no access to energy, said panelist Mak Joshi, director of project management at Schneider Electric.
"Cities take up 2 percent of Earth's global surface, but they hold 50 percent of the population," Joshi said. "Cities consume 75 percent of the energy. By 2050, 70 percent of the population will reside in cities, and you can imagine how much the energy demand is going to be."
Because the responsibility for the environment is a commonality between all human beings, people need to become more conscious of preserving their world, Zundritsch said.
"The environment is something all of our lives are based on, and people really don't pay enough attention to it," she said. "For example, all of the paper cups that we send to the landfill every year use up energy from trees, they use up space and they will end up polluting the environment. We just use this all for ourselves without giving back."
Lucy Mui, a member of Net Impact and a CAS sophomore, said she was impressed by the diversity of the panel and the insights panelists had to offer.
"It's really reassuring to hear this from a lot of senior executives in a lot of corporations and different companies and industries," Mui said. "After all that they've been through at the positions they are in now, the best advice they still have for us is still to follow our dreams."
Mui said it is important for everyone to be conscious of the environment and sustainable initiatives regardless of the career path they choose.
"I definitely have an interest in sustainability, and I want to incorporate that into what I do later," she said. "I don't have any career plans yet, but I think it's important for everyone to have sustainability and environmentalism in the back of their minds no matter what they do."