After besting Lehigh University 14-9 in the Patriot League quarterfinal round, the Boston University women's lacrosse team is set to take on the four-time defending Patriot League champions U.S. Naval Academy Thursday in the Patriot League semifinals in Baltimore.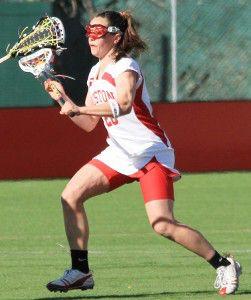 The third-seeded Terriers (8-9, 5-3 Patriot League) pose a threat to the No. 2 Midshipmen (14-2, 6-2 Patriot League). Earlier in the season onMarch 22, BU edged Navy in a close 9-8 battle in Annapolis, Md. The Terriers' win ended the Navy's 15-game Patriot League winning streak that dated back to the 2011 campaign.
"We're going to have a great battle," said BU coach Liz Robertshaw about the upcoming game. "We're all excited to go out there and have some fun in Maryland."
Tuesday's game against Lehigh (7-9, 4-4 Patriot League) saw major contributions from many Terriers. Sophomore midfielder Jill Horka scored a career-high five goals and freshman attack Taylor Hardison accumulated a career-best five points.
Senior midfielder Becca Church and junior attack Lindsay Weiner each scored twice and added a helper in the win. Sophomore attack Jenny Thompson, junior attack Jenna Boarman and senior midfielder Sydney Godett each tallied a point as well to help lead the Terriers to the next round of the tournament.
Earlier this week, four Terriers were also honored with All-Patriot League accolades. Senior defense Christie Hart and Horka secured spots on the All-Patriot League First Team, while Church and Weiner earned All-Patriot League Second Team honors. Tuesday, the conference named Godett a member of the Academic All-Patriot League Team.
On the other side, Navy's squad also boasts some big names. Four Midshipmen were named to the All-Patriot League Team, including junior Loren Generi, who was named to the First Team for the third consecutive season.  The Bayport, N.Y., native leads her team in points (78), goals (44), assists (34), draw controls (100) and ground balls (28).
Senior Aimee Gennaro, senior Jill Coughlin and sophomore Lizzy Rullan each earned spots on the Second Team for the Midshipmen.
"We have to bring a strong defensive end because they're going to be bringing goal scorers who have had a great deal of success this season," Robertshaw said. "We really need to take chances on attack and be aggressive.
"Our schedule has prepared us to take on such a tough team like Navy. We've taken some hits, but it has prepared us to battle and work for what we want."
To counter the Navy attack, BU could look to freshman goalkeeper Caroline Meegan in the contest, despite having not played in the quarterfinal game against Lehigh. Meegan started 12 of the 14 games she played in this season and owns a 11.03 goals-against average and a .418 save percentage.
Senior goalkeeper Christina Sheridan, who played a full 60 minutes against Lehigh, has started five games this season and holds a 10.15 goals-against average and a .372 save percentage. In the win over the Mountain Hawks, she made seven saves to secure the victory.
On the opposite end, junior Annie Foky will likely be in the net for Navy. The goalkeeper has started each of the 11 games she has played in and has an impressive 4.97 goals-against average as well as a .440 save percentage.
Navy may also look to sophomore Cassidy Chaney, who has started five games this season. Chaney possesses a 8.43 goals-against average and a .328 save percentage.
Despite going up against a tough opponent, Robertshaw said her team is ready for the challenge and not nervous to be going on the road to Maryland for the semifinals.
"We just have to go out there and play our game and see what happens," Robertshaw said. "We're not surprised to be here. This was one of our goals, to do as well as we've done, and we want to keep going. We're not surprised at all."