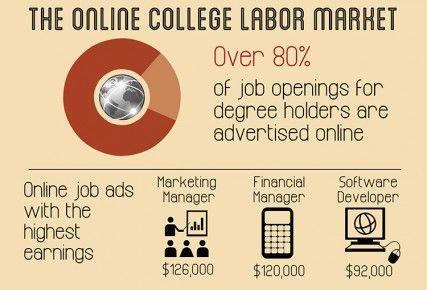 As prospective graduates at schools such as Boston University struggle to navigate the job market, a study released Wednesday reveals that a large portion of employment openings online target white-collar workers and science and technology professionals.
"As the economy continues to recover from the recession, employers are looking for college graduates who can fill jobs in STEM [science, technology, engineering and mathematics], management, and professional fields," said Georgetown University senior research fellow Tamara Jayasundera, co-author of the report, said in a Wednesday press release.
The Online College Labor Market study, which was conducted by Georgetown University's Center on Education and the Workforce, examined online job postings to determine that over 80 percent of career openings that require at least a bachelor's degree are posted online. While there are an average of 3.7 million new job openings monthly, around 2.7 million are posted online, the study stated.
The study's examination of online job advertisements found that the greatest career demand in the labor markets are for white-collar jobs, primarily in the fields of business, science, engineering and mathematics. These fields accounted for 61 percent of all online job ads in the second quarter of 2013, the study stated.
Students at BU found it understandable that these jobs would be in demand, but many said students should not choose career paths solely based on job availability.
Matthew Taylor, a College of Arts and Sciences senior, said these jobs are the most in demand because of the high salary they tend to offer.
"Why wouldn't there be a demand for these jobs?" Taylor said. "These are the kinds of jobs where you earn the most money. Especially as far as technological jobs go, people definitely see the appeal of decent paying jobs. We've all heard about technology being the future. A lot of my friends are going into technological jobs, and they want to impact change."
Dario Dell'Orto, a School of Management freshman, said he is pursuing a career in accounting because it will offer him the greatest job security in an uncertain labor market.
"I've heard that accounting can offer you a lot of job security, and there's also always going to be a demand for accountants," Dell'Orto said. "BU will give me opportunities to find job. It's up to me to go out and find a job, but I think BU will definitely help me get that position."
Liliana Castaneda, a College of Communication senior, said many students perceive white-collar jobs to be more impressive than lower-paying jobs, even if the student is not passionate about the work.
"People think these [white-collar] jobs are a lot more prestigious and they definitely do earn a lot more money than working in the food industry or something blue collar," Castaneda said. "… I have a friend who wanted to go into teaching, but she ended up going into accounting because her parents wouldn't pay for college unless she became an accountant."
Nikki Long, a first-year graduate student in Metropolitan College, said the best way to find a job is through old-fashioned networking, and BU is the ideal place for making these important connections.
"Knowing the right people really makes an impact," Long said. "Just through my studies and with the professors I know, they have made a lot of connections, and they know people who are either hiring or looking for people from BU to hire… BU is a really good networking school, and we have a lot of really successful graduates and that will make a big difference."