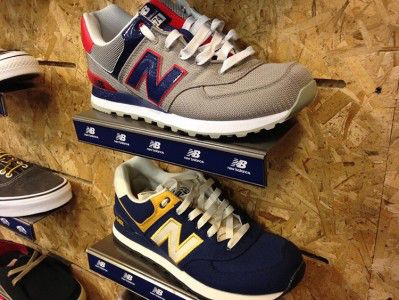 To uphold its commitment to provide troops with American-made supplies, the U.S. Department of Defense is considering a contract with Allston-based New Balance to provide the military with sneakers.
The Berry Amendment, established in 1941, requires that our troops are training and operating with American-manufactured materials. Up to this point, the Department of Defense has given the troops cash allowance to purchase sneakers themselves, but a policy change will ensure that even their footwear is American, the Department of Defense announcedFriday.
New Balance announced it would be competing for a contract with the DoD to be the sole supplier of sneakers for the military. Matt LeBretton, New Balance's vice president of public affairs, said the contract would benefit New Balance, the military and the domestic economy and job market.
"This decision will create more American jobs at manufacturers and suppliers in Maine and Massachusetts and across the country," he said. "We look forward to moving through the implementation process and competing to provide our American military with the very best in U.S.-made athletic shoes."
New Balance will be vying for the contract with many other companies, which need to have a product made completely of American materials with American employees to compete.
"This is a contract we will compete for … we do not have a deal at this point," said Amy Dow, communications manager for New Balance. "In 2013, one out of every four pairs of shoes that New Balance sold in the USA was made or assembled here. New Balance also proudly employs more than 1,300 American manufacturing workers."
New Balance currently makes a 100 percent Berry-compliant shoe, which would cost the DoD less to supply the troops with than the current cash-allowance they are providing, according to a 2013 press release from Massachusetts Congresswoman Niki Tsongas.
"DoD has spent approximately $180 million on the athletic footwear cash allowance program to date, which is money that could have gone to American jobs and manufacturing," Tsongas said in the 2013 release.
Tsongas has been advocating for this policy change for more than one year. If implemented, this policy change would redirect the current money the DoD is giving their troops back into the American economy.
"Innovative companies such as New Balance are able to provide our service members with quality products and keep business here on American soil," she said. "We are boosting job growth, spurring economic development and innovation and giving the brave men and women of our armed forces better gear. This amendment is a win all around."
Several residents said they are excited about the prospect of troops wearing New Balance shoes, and happy to hear the military will be supplied by American manufacturers.
"It's great that [the military] will be buying from Americans and not from overseas," said Joseph Wells, 42, of Back Bay. "But I don't think it'll make much of a difference in the job market or anything, I just think it's a nice gesture and ensures that Americans are supporting Americans while our economy is wavering."
Cristy McDaniel, 51, of Back Bay, said it is time for this action to be implemented, especially since this policy has been put in place for years.
"It's not right for the people that represent us to be wearing stuff from other countries," she said. "It may not seem like that big of a deal, but is sends a message that we are united."
Shirley Kane, 61, of Back Bay, also said it probably would not make that much of a dent in the economy but is a wise move for the DoD nonetheless.
"At best, it'll probably just create a few more jobs … although even those few jobs are worth it," she said. "The best thing about this will be the message it sends. A lot of people have problems with the military buying from countries, supporting other economies, which we may be at war with in the future."