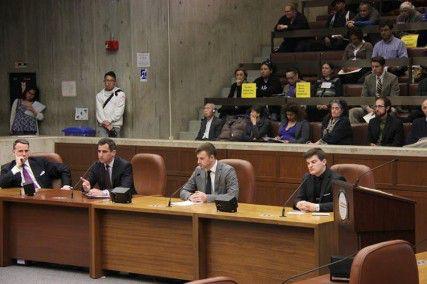 Boston residents raised concerns and suggestions addressing gentrification and an insupportable housing supply at a Boston City Council hearing Monday evening.
City Councilors Josh Zakim, Ayanna Pressley, Charles Yancey and Frank Baker were present, as well as several panels of testifiers, who raised and clarified issues to the council's attention.
Zakim, who filed the hearing at the end of February as a human and civil rights matter, published a statement saying he hoped to address the provision of safe and affordable housing, rising median real estate costs outgrowing median incomes, the city's Inclusionary Development Program and income inequality.
"Particularly in a city that boasts about our diversity, we need to be demonstrating in our housing stock a commitment to preserving diversity," Pressley said. "And not just on the racial lines, but also the socioeconomic lines."
Attendees said they were interested in seeing how the council would address gentrification in their neighborhoods.
"What I'm afraid will happen is there will be a displacement of people who call this place home," said Maureen White, 34, a resident speaking about her neighborhood of East Boston, "People who've made this neighborhood their community — they'll just be forced out, and we'll be a neighborhood of rich people."
Some attendees were not from Boston but were nonetheless affected by those displaced from Boston's neighborhoods.
"We saw that most kids coming in from the state came from Boston neighborhoods, so the gentrification has an effect on the people in Brockton," said Ross DePina, 24, of Brockton, who works with youth. "Plus, we see other things happening: luxury housing being put up [and] property that could kick out working class people."
Among the issues that were brought up by panelists and testifiers, the most frequently cited was the inadequate housing supply for the recent explosion of the city's population. Since 2010, about 19,000 people have moved to the city of Boston, said former City Councilor Mike Ross.
"If there's one thing I remember from business school, it's that demand or price will only go down if supply increases as against that demand," he said.
Ed Glaeser, Ph.D., an economics professor at Harvard University, said he agreed with several of the city councilors and re-emphasized the need for zoning law reform.
"Reforming the zoning code allows for more density," he said. "That's about affordability, and it's also about environmental sensitivity. Building Boston up is a way to avoid building out, right? And you get a greener world if you build the city up instead of building out."
Other panelists addressed the issue of Millennials, who are coming to the city for education and leaving the city to find more affordable housing. Tamara Roy, senior principal at ADD Inc., an architectural firm, said housing density could be bettered in a variety of ways.
"Boston's rapid shift toward singles and much smaller families coupled with our existing postwar housing stocks, of which over 66 percent are two-, three- or four-bedroom units, leaves us to the conclusion that the far better solution is a smaller, more affordable unit," she said.
Roy is one of the creators of the micro-apartment, a class of compact studio apartments ranging in under 300 square feet. Several of her architectural students had to move out of Boston because their incomes out of college were not enough to make ends meet.
At the end of the panel, residents said they were pleased housing has become an important issue in the city council.
"[In] the last panel, housing justice rang true," said Daniel Procaccini, 27, of Norwood. "They reminded the council about what's important on the ground and what people are experiencing."