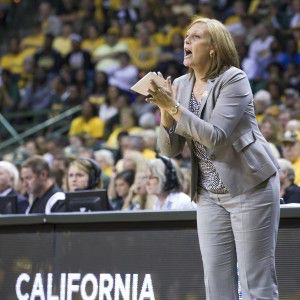 Boston University has hired Katy Steding to become the coach of the women's basketball team, athletic director Mike Lynch announced Friday.
"Katy is the absolute right person to lead our women's basketball program in the Patriot League and we are fortunate to have someone of her class and caliber representing Boston University," Lynch said in a statement.
Steding, who has been coaching for 14 years, comes to BU from University of California, where she spent two years as an assistant coach to Lindsay Gottlieb. Steding's duties at Cal included recruiting, overseeing the team's offense and working with the team's post players.
She replaces former coach Kelly Greenberg who resigned in April due to allegations of emotional bullying from several former players. Under Greenberg's 10-year tenure, the team went 186-127 and made four appearances in postseason tournaments including the Women's National Invitation Tournament.
Last season, under Steding's tutelage, the Golden Bears went 32-4 and earned the program's first trip to the Final Four. She has also served as an assistant coach at the University of San Francisco, Columbia University and with the WNBA's Atlanta Dream.
The BU job will be Steding's second head coaching job, as she spent seven seasons as the coach at Warner Pacific College in the National Association of Intercollegiate Athletics. At Warner Pacific, Steding recorded multiple 20-win seasons and led the Knights to the NAIA Division II Championship tournament in 2004 and 2006. Steding was named the Cascade Collegiate Conference Coach of the Year due to her work during the 2005-2006 campaign.
Steding attended Stanford University, where she was a three-time Pacific-10 All-Conference selection and guided the team to its first NCAA championship in 1990. In Stanford's win over Auburn University in the title game, Steding scored 18 points, grabbed eight boards and received CBS/Chevrolet Player of the Game honors.
The Oregon-native finished her four-year career at the Farm ranked ninth in program history in scoring (1,586 points) and fourth in rebounds (864 rebounds). In 2002, Steding was inducted into the Stanford Sports Hall of Fame.
After graduating from Stanford with a degree in psychology, Steding played professionally overseas and was named to the U.S. National Team in 1995, nicknamed the "Women's Dream Team." The team went 60-0 and captured the gold medal at the 1996 Atlanta Olympics. Steding then went on to play for the Portland Power, Sacramento Monarchs and Seattle Storm of the WNBA before retiring from the game as a player in 2001.
Steding will take over a team that had a 13-20 record this past season and reached the quarterfinals of the Patriot League tournament. Several players from last season's team will return, including senior forward Mollie McKendrick, junior guard Clodagh Scannell and sophomore guard Sarah Hope.
"I am thrilled and honored to be the head coach at Boston University," Steding said in a statement. "I want to thank President Robert Brown and Director of Athletics Mike Lynch for this incredible opportunity to lead these fantastic young women. BU's reputation for elite academic standards and championship athletics is unbeatable, and I look forward to continuing the tradition of excellence against the backdrop of the vibrant setting of Boston. I can't wait to get started!"
BU Athletics is expected to officially introduce Steding to the Boston University community later this month.