Though Boston University's linear campus stretching along Commonwealth Avenue might be unconventional, the location boasts all of the aspects of a typical university's stomping grounds. Affectionately known as "Comm. Ave.," the vein of our campus houses beautiful buildings, green lawns and giant stone fountains. Sandwiching Comm. Ave. is the Charles River on one side and the rest of the city on the other, which puts Boston right at our fingertips and makes our campus a great place to live, work and study.
BU is equipped with everything a college student needs. It's hard to walk more than a block without stumbling upon a coffee shop. There are great places to get food at nearly all hours of the day. There are multiple Starbucks and Dunkin' Donuts locations, two CVS stores, a Chipotle and a Panera Bread. With so many options, it can sometimes be hard to decide where to go. Here is a guide to help you learn the important academic and residence buildings on campus along with a few of the best places to eat and shop, unique to BU. The items below start at East Campus and work down Comm. Ave. toward West Campus.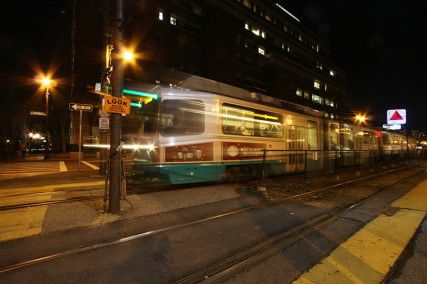 Massachusetts Bay Transportation Authority
Few other colleges have a mass transit system running through the heart of their campus. The Massachusetts Bay Transportation Authority's Green Line subway makes seven stops along BU's 1.3-mile long campus, making it easy and quick to travel from one end of campus to the other. The T, as it is commonly known, also serves as a gateway for BU students to the rest of the city. Kenmore Station, located on the eastern border of BU's Charles River Campus, is the best place for BU students to purchase CharlieTickets and reload their CharlieCards. For more information about taking the T, check out A BU Student's Guide to Taking the T.
Danielsen Hall
512 Beacon St.
Danielsen Hall, located several blocks east of Kenmore Square, is a nice dormitory-style option for students who want to live closer to Massachusetts Avenue and don't mind a little bit of a walk to their classes. Danielsen has single, double and triple rooms, some with private bathrooms and some with suite-shared bathrooms.
Myles Standish Hall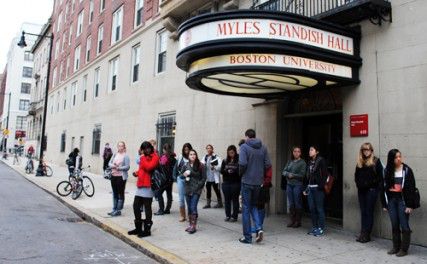 610 Beacon St.
Myles Standish Hall has double rooms in suites, single rooms in suites and private single rooms. Located just off of Kenmore Square, Myles' is a great place for students who love the energy of a busy intersection and its close proximity to UBurger and Fin's Japanese Sushi and Grill.
Barnes and Noble @ BU – Official Bookstore
660 Beacon St.
This multi-level bookstore is the best place to find BU apparel, class textbooks, school supplies and more. The Barnes and Noble Café on the first floor is a great place to meet with friends and classmates or to study. Both the store and café take Convenience Points.
Kilachand Hall
91 Bay State Road
Kilachand Hall is home to the Kilachand Honors College offices and all KHC freshmen (KHC upperclassmen may also live there, but they are not required). Although floors 2 to 4 are designated for KHC students, floors 5 to 8 are available for anyone else who would like to live in the building. Nearly all rooms in the building are four or five person suites, with a few scattered double rooms. Each suite shares its own bathroom. The first floor and ninth floor study lounges make Kilachand Hall a popular East Campus study spot.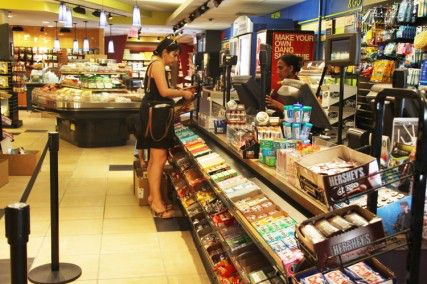 City Convenience
Multiple Locations (Ranging from Kenmore Square to West Campus)
There are five City Convenience stores on BU's Charles River Campus — Kenmore Square, Warren Towers, George Sherman Union, Sleeper Hall and 957 Commonwealth Ave. — and one on BU's Medical Campus in the South End at 700 Albany St. City Co. can be best compared to a mini-grocery store, great for on-the-go meals and items to keep in your fridge for late-night hunger. All locations on BU's campus take Convenience Points.
Center for Student Services
100 Bay State Road
The Center for Student Services has six floors plus a lower level, making for three floors of dining and three floors of students resources. The lower level is home to Rize and Late Night Kitchen, two dining options that take Dining Points, Convenience Points, credit or debit cards and cash. The ground floor and second floor are home to the Fresh Food Company at Marciano Commons, our East Campus dining hall. Students pay at Marciano Commons with a meal in their dining plan to get in and its buffet-style. The upper floors of 100 BSR include the College of Arts and Sciences Writing Center, Academic Advising, the Center for Career Development and the Educational Resource Center. All resources are free to BU students and there are several great study spots on these upper floors.
Bay State Road Brownstones
Bay State Brownstones can hold anywhere from 14 to 51 students per address. The rooms can be singles, double, triples or quadruples, although most are doubles and triples. A small percentage of Bay State brownstones are apartment-style and have their own kitchen. Several brownstones are specialty housing, and students must apply to live in the building.
The Towers
140 Bay State Road
The Towers is a dormitory-style residence hall with double rooms on single-gender floors. Several of the floors are specialty floors. Towers has its own mail room, laundry room and study lounges.
Food Trucks on Campus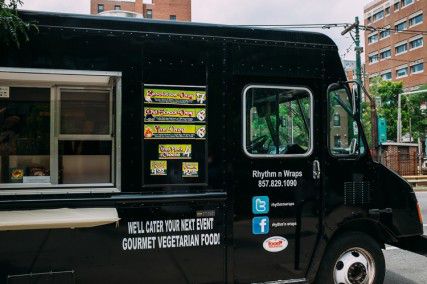 There are several different food trucks located along Comm. Ave. each day. There is usually a food truck located near the College of Fine Arts on West Campus, on the corner of St. Mary's Street and Comm. Ave. in Central Campus and in front of Morse Auditorium on East Campus. A variety of food trucks will park in these spots at designated times during the day and evening, including Bon Me, which offers Vietnamese cuisine, The Chicken and Rice Guys and Sweet Tomatoes Pizza. Food trucks' meals are delicious, fast and affordable, especially when you're running late to class but don't want to skip a meal.
School of Management
595 Commonwealth Ave.
Students in the School of Management all major in Business Administration and can concentrate in 10 different areas, including accounting, finance and entrepreneurship, among others. SMG is home to The Frederick S. Pardee Management Library, a great study option for students living on East Campus who don't want to travel too far on the weekends. Many non-SMG students also enjoy the building for its Starbucks, but watch out for long lines.
Alfred L. Morse Auditorium
602 Commonwealth Ave.
Alfred L. Morse Auditorium is often used for performances and large lecture classes. The balcony in the auditorium strengthens the acoustics in the room, making large lectures feel smaller and more personal.
School of Education
2 Silber Way
School of Education has 10 different majors ranging from Early Childhood Education to Special Education and several major subject areas like Mathematics Education and Social Studies Education. SED has a Social Learning Laboratory, which opened in 2012, for undergraduate students to explore the cognitive and social functions of preschool-aged children.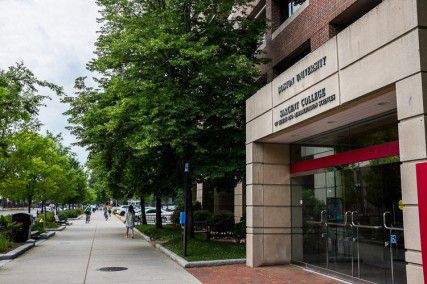 College of Health and Rehabilitation Sciences: Sargent College
635 Commonwealth Ave.
Sargent College of Health and Rehabilitation Sciences offers a wide range of programs such as Nutrition/Dietetics, Athletic Training, Human Physiology, Speech, Language, and Hearing Sciences. There are 1,400 clinical sites in the United States and abroad where SAR students can further develop and practice the skills they have learned in the classroom. SAR also has its own cadaver lab, where students can get firsthand experience in a lab while still an undergraduate student.
College of Communication
640 Commonwealth Ave.
The College of Communication is home to journalism, film and television, advertising, public relations and mass communication students. On a beautiful day, there is no better place to spend time than on the lawn in front of COM. During the school year, COM hosts a number of exciting events that are open for all BU students to attend, including Cinematheque, which brings distinguished producers, filmmakers and screenwriters to COM to discuss their work and show screenings. COM also has its own writing center, where students can work with graduate students in their field to get assistance with their writing.
College of Engineering
44 Cummington Mall
The College of Engineering houses four majors: biomedical, computer, electrical and mechanical engineering. There are a variety of concentrations students can choose to study under those divisions, such as aerospace engineering, manufacturing engineering and nanotechnology to name a few. Seniors in ENG participate in a senior design project, where they create a product that attempts to solve a real-world challenge.
Warren Towers
700 Commonwealth Ave.
Warren Towers has three towers: Fairfield Tower (A), Marshall Tower (B) and Shields Tower (C). Although Warren is home to single, double and triple rooms, the majority of Warren residents will be living in doubles. Each floor has two common bathrooms, and the dorm has a laundry room, mail room, study room and multipurpose room. Warren is mostly coed floors with some single sex and speciality floors. Warren is also home to the Fresh Food Company at Warren Towers and Late Night Café, the closest place for those living in Central or South Campus with a dining plan to use their meal swipes.
Florence and Chafetz Hillel House
213 Bay State Road
The Florence and Chafetz Hillel House is the center for Jewish life on BU's campus. With reform, conservative and Orthodox (female and male) Shabbat services every Friday night and Saturday morning, Hillel welcomes any student who has an interest in Judaism (whether or not they consider themselves Jewish). Hillel also holds a variety of events throughout the year open to all BU students, including Latkepalooza, a Hanukkah event full of music, dancing and thousands of free latkes.
BU Castle
225 Bay State Road
The Castle, which has its own great hall, music room, library and dining room, hosts a multitude of special events throughout the year, including weddings, receptions and special BU events. Originally built in the mid-1800's, the castle has Renaissance-style architecture and holds within its walls a great deal of history. The BU Castle used to be the home of the university president, but now he resides in an off-campus home.
Admissions Reception Center
233 Bay State Road
As an accepted student, you probably won't need to go inside the building, unless you choose to become an Admissions Ambassador. However, if you're ever walking by a prospective student and their family, at least you'll be able to point out the building. The Admissions Reception Center is a beautiful, new building with a lot of glass windows, situated at the end of Bay State Road. If you get the chance, go inside and take a look. It offers a beautiful view of the Charles River.
Insomnia Cookies
708 Commonwealth Ave.
Insomnia Cookies is without a doubt, one of the best places to fill your sweet tooth on campus. There are roughly a dozen different kinds of cookies to choose from, including M&M, S'mores Deluxe and White Chocolate Macadamia Nut. Most students find Insomnia Cookies especially convenient because they deliver until 3 a.m. every night. You can order online, and you don't have to ever leave your dorm to experience the goodness.
College of Arts and Sciences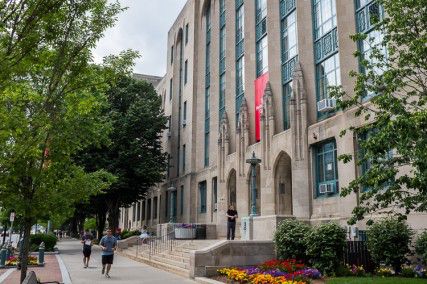 725 Commonwealth Ave.
The College of Arts and Sciences is located right in the center of campus. Regardless of your major at BU, all students will take classes in CAS, especially as an incoming freshman for major requirement classes and also through the writing program. CAS is a huge building full of classrooms. There is also an observatory on the roof of the building for those who want to look out into space.
Einstein Bros. Bagels
725 Commonwealth Ave.
Einstein Bros. Bagels is located in the basement of CAS. This is a great place to get a bagel early in the morning if you are in a rush before your 8 a.m. class. Einstein Bros. is open throughout the day, and they sell a variety of different bagels, pastries, sandwiches and coffee drinks. You can pay with Dining and Convenience Points, which makes this option especially convenient. Just make sure you plan your time accordingly. Lines can get extremely long around lunch time.
Tsai Performance Center
725 Commonwealth Ave.
The Tsai Performance Centeris located on the first floor of CAS. Many music, dance and theater performances take place at Tsai, and some professors choose to hold lectures inside the auditorium because of the great acoustics. There are always great things happening at Tsai, so be sure to keep an eye on their events calendar.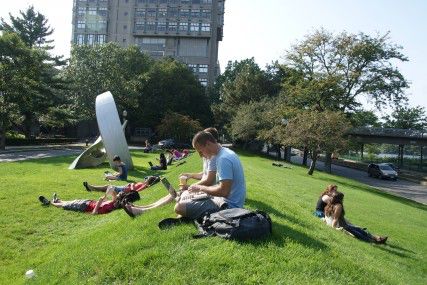 BU Beach
The BU Beach is a central location for students, regardless of where they live on campus. On a nice sunny day, you'll see students tossing around a frisbee and soaking in the sunshine while they study. On a snowy day, the "beach" will be covered with snowmen. Student groups also hold events on the BU Beach.
Marsh Plaza
735 Commonwealth Ave.
Marsh Plaza is home to many pieces of history on our campus. Marsh Chapel, an interdenominational center for religious life on campus, hosts services, weddings, baptisms, confirmations and other religious and spiritual events for students. In the center of Marsh Plaza, is a statue in memory of Dr. Martin Luther King, Jr., a famous BU alumnus who received a degree from our School of Theology. On the ground next to the statue is the BU seal. BU students have a superstition that stepping on the seal before you graduate will keep you from graduating in four years, so watch out for the seal (until graduation day. Then you can step on it all you want).
School of Theology
The School of Theology, a seminary of the United Methodist Church, is one of the oldest schools at BU, and is one of BU's graduate programs. Its notable alumni include Dr. Martin Luther King, Jr. and Samuel DeWitt Proctor. Aside from STH classes, the building is also often used for discussions and smaller classes.
Photonics Center
8 St. Mary's St.
Although the Photonics Center functions academically as part of BU's engineering and science departments, the building is often used for other activities for its large lecture halls and classrooms.
South Campus
Many upperclassmen choose to live in South Campus for its quieter, more residential atmosphere and close proximity to campus. South Campus brownstones have a mix of single, double and triple rooms, as well as suites. Some of the buildings have laundry rooms and study rooms.
Nud Pob
738 Commonwealth Ave.
Nud Pob, a small Thai restaurant, is a great place to grab a quick, delicious and cheap bite to eat when you need a break from the dining hall. Located in Central Campus, Nud Pob is a great place to stop if you have an hour or two to kill between classes.
Metropolitan College
755 Commonwealth Ave.
The Metropolitan College offers a number of continuing education programs for full-time, part-time and international students both in the classroom and online.
George Sherman Union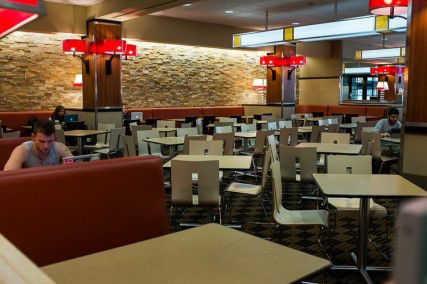 775 Commonwealth Ave.
The George Sherman Union is one of the busiest places on campus, a central hub where you can always count on running into a familiar face. Inside the GSU, you'll find a variety of dining options. Starbucks, Panda Express, Pinkberry, Charles River Bread Company and Basho Sushi are just a taste of what the GSU has to offer. It's also a great place to study, work on group projects or simply grab a bite to eat with a few friends. The GSU accepts Dining and Convenience Points. The GSU also houses BU Central, which hosts live concerts, speakers and other events for students each month. Also with BU Central in the basement of the GSU is the Howard Thurman Center for Common Ground, which strives to inspire students to learn and grow through the common ground we share and the differences we bring. Students interested in community service should visit the Community Service Center inside the GSU on the fourth floor, home to a variety of community service programs and one-time service opportunities. Lastly, the GSU Link is a great way to learn about what's going on around campus with student groups, Student Government and academic clubs.
Mugar Memorial Library
775 Commonwealth Ave.
Mugar Memorial Library is located inside the GSU. With seven floors and more than 2.2 million digital and print items, Mugar is the main library on campus. On the first floor, you'll find a sea of desktop computers and a print center. Each floor has a slightly different study environment. The second floor is very quiet and there are individual cubicles where you can study. The third floor houses the PAL Study Lounge, where students can talk quietly and work on homework or group projects with friends. During study periods and finals weeks, the library is open to students 24 hours a day, seven days a week.
College of Fine Arts
855 Commonwealth Ave.
The School of Theater, the School of Visual Arts and the School of Music are all housed inside the College of Fine Arts. CFA has been a home to a number of distinguished and notable alumni, including Stewart F. Lane (CFA '73), who produced a musical called "A Gentleman's Guide to Love and Murder," which won this year's Tony Award for "Best Musical."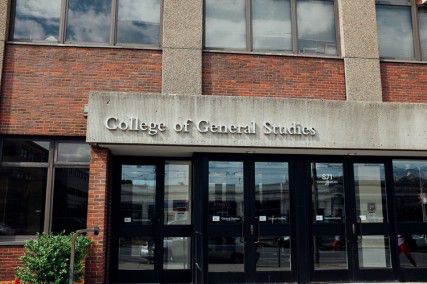 College of General Studies
871 Commonwealth Ave.
Students in the College of General Studies take all of their classes in this building, with the exception of their electives. The Jacob Sleeper Auditorium is located in the basement of CGS, and many student activities and events take place here. Students can enter CGS and will spend two years taking an interdisciplinary curriculum before continuing on in one of BU's degree-granting schools and colleges.
Student Health Services
881 Commonwealth Ave.
Student Health Services is the place to go if you are sick, injured or would like to see medical professionals. All services at SHS are available to BU students, regardless of whether you have health insurance through BU or a private insurer. Walk-ins are always welcome at SHS, but it is usually busy, so it is often best for students to book appointments ahead of time.
Study Abroad Office
888 Commonwealth Ave.
If you're interested in studying abroad, concerned about fitting it into your class schedule or have questions about a specific program, the Study Abroad Office is where you want to go. The faculty in this office will help you get exactly where you want to go, literally and figuratively.
Fitness and Recreation Center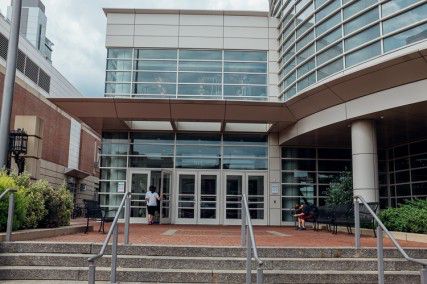 915 Commonwealth Ave.
The Fitness and Recreation Center is an amazing workout facility, available to all BU students. There are two floors of workout equipment, an indoor running track, two pools, a lazy river, a hot tub, a rock-climbing wall and several courts and dance rooms. FitRec is open seven days a week, and best of all, FitRec membership is free to all BU students.
Agganis Arena
925 Commonwealth Ave.
This arena is home to the BU men's hockey and basketball teams. Agganis Arena is huge, and the energy at BU sporting events is always incredible. Agganis also hosts a slew of concerts and local events throughout the year. This fall, Marc Anthony and Bastille will both be performing at Agganis.
School of Hospitality Administration
928 Commonwealth Ave.
Students in the School of Hospitality Administration will learn how to become successful in the fields of hotel management, food service, travel or tourism. Each year, a number of distinctive lecturers and professionals in the hospitality industry come to SHA. This past spring, lecturers included Bill McCormick, the chairman of McCormick & Schmicks, and Ian Carter, president of global development at Hilton Worldwide.
West Campus
Claflin Hall – 273 Babcock St.
Sleeper Hall – 275 Babcock St.
Rich Hall – 277 Babcock St.
The West Campus dorms have single, double and triple rooms, and all floors share two common bathrooms. The buildings all have laundry rooms, study rooms and lounges. The Fresh Food Company at West Campus and Late Night Café can be found on the first floors of Claflin and Sleeper Halls.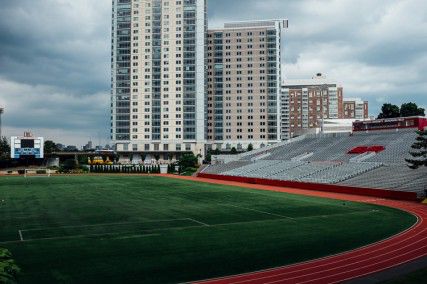 Nickerson Field
285 Babcock St.
Surrounded by Claflin, Sleeper and Rich Halls, Nickerson Field, Nickerson Field is home to the men's and women's lacrosse and varsity soccers teams, as well as a variety of club and intramural sports. Students living in West Campus often enjoy keeping their windows open during the warmer months to hear the cheering and excitement from the field. Fun Fact: The Boston Braves, a Major League baseball team now located in Atlanta, used to play at Nickerson.
New Balance Field
Corner of Babcock Street and Ashford Street
New Balance Field, a construction project that began in the summer of 2012 and was finished in August 2013, was primarily built to create competition space for the Women's Field Hockey team. However, since its creation, New Balance Field has hosted games and practices for BU's varsity, intramural and club sports.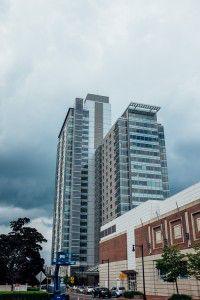 John Hancock Student Village
Student Village "StuVi 1" – 10 Buick St.
Student Village "StuVi 2" – 33 Harry Agganis Way
The Student Village residences are only open to sophomores (in the suite-style rooms in StuVi 2), juniors and seniors (freshmen and transfer students are not eligible). Located in West Campus, many students prefer the StuVis for their apartment and suite-style rooms and their closeness to Agganis Arena and FitRec.
Raising Cane's
949 Commonwealth Ave.
Raising Cane's is located near West Campus residences and is open until midnight. Because Cane's is only one block from FitRec and Agganis Arena, BU students often flock there after sporting events. Their crispy chicken tenders and French fries are hard to beat, and they're one of the few restaurants at BU that brews sweet tea. BU students can pay for Cane's using Convenience Points.
T. Anthony's Pizzeria
1016 Commonwealth Ave.
T. Anthony's Pizzeria, which is open until at least 1 a.m. every night, is a quick walk across the street from West Campus. If you live in Warren or The Towers, don't worry: T. Anthony's delivers every night until midnight!
Angora Cafe
1024-A Commonwealth Ave.
Angora Cafe is open seven days a week until midnight and offers a wide selection of sandwiches, wraps, flatbreads, salads and smoothies. Several BU students love Angora because of their frozen yogurt. Not only are the portions huge, but there are also dozens of toppings to choose from.