There are few cities that can boast of hosting the world's oldest annual marathon and winning eight national championships in a 13-year stretch, but then again, there are few sports cities quite like Boston.
A World Series parade and the 118th Boston Marathon were just a few of the many sporting events that BU students were able to experience during the 2013-14 academic year.
Here's a brief look at some of Boston's greatest sports moments from this past year at BU: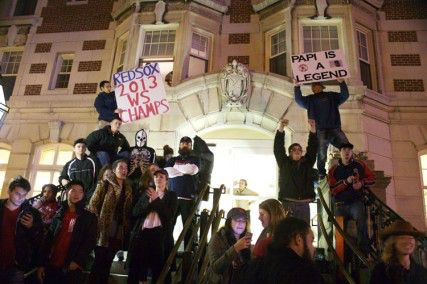 Red Sox go from worst to first, clinch eighth World Series title
It was a miraculous turnaround season for the Boston Red Sox, who followed up a miserable 2012 campaign with a World Series title in 2013. Expectations were low for the Sox coming into the new year, as the team finished last in the American League East division with a 69-93 record in 2012 – the most losses in a season since 1965.
However, behind first-year manager John Farrell and an assortment of gritty and tenacious new players, the Red Sox quickly righted the ship, winning 97 games – tied for the most in the majors – while winning the AL East for the first time in five years.
After three dramatic playoff series against the Tampa Bay Rays, Detroit Tigers and St. Louis' Cardinals, Boston's improbable season ended in triumph on Oct. 30, as Sox closer Koji Uehara struck up Cardinals second baseman Matt Carpenter to close out a series-clinching 6-1 win at Fenway Park.
Thousands of rabid fans immediately began filling the Fenway area and Kenmore Square, celebrating the club's first championship win at home in 95 years. The craziness that comes with a World Series title would not die down until three days later, as the team rolled through Boylston Street and down the Charles River in a convoy of duck boats as part of a memorable World Series parade on Nov. 2.
Over 35,000 runners brave Heartbreak Hill in 118th Boston Marathon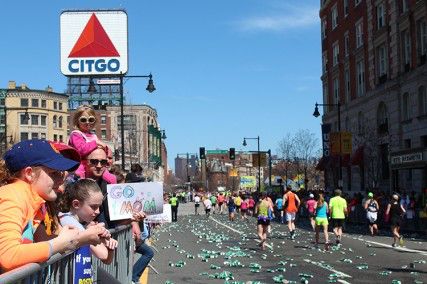 Just a year after the Boston Marathon bombings, at the finish line on Boylston Street, that killed three people and injured more than 260, over 34,000 runners and hundreds of thousands of cheering spectators packed the streets to celebrate the 118th Boston Marathon on April 21.
While this year's marathon was a day to remember those who were killed and injured on April 15, 2013, it was also a time of triumph, as thousands of shouting onlookers dressed in blue and yellow 'Boston Strong' shirts and cheered words of encouragement to the weary participants across the entire grueling 26.2 mile course.
American long-distance runner Meb Keflezighi won the marathon with an official time of 2:08:37, but this was not an occasion focusing on celebrating individual achievement, but rather, a day celebrating the unity of a city that would not be shaken by tragedy.
400,000 spectators pack into Boston for Head of the Charles regatta
The 49th annual Head of the Charles regatta saw 2,045 boats and 6,971 participants – hailing from 37 states and 23 countries – pass through the famous 3-mile course on the Charles River from Oct. 19-20.
Over 400,000 observers lined the banks of the Charles and on top of the seven bridges that cover the course to watch 55 events over the two-day span.
The event, which is held every year on the penultimate weekend of October, usually includes athletes from multiple national teams and college programs, including the BU men's and women's rowing team.
What's coming to Boston?
Incoming students can expect the festivities of the Head of the Charles and the Marathon in October and April, respectively. While there are no guarantees for another championship parade, a New England Patriots team with Tom Brady under center, coupled with two stacked teams in the Boston Bruins and Red Sox means that another column of duck boats might soon make their way down Boylston in the near future.