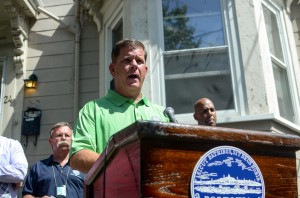 Boston Mayor Martin Walsh announced a series of housing reforms in Allston-Brighton Monday as hundreds of students moved in and out of their apartments during "Allston Christmas."
"Students have a right to safe and clean housing in the city of Boston," Walsh said during a Monday press conference. "Move-in day is an opportunity to make these values very clear and to show what steps we are taking to protect the safety and the quality of life of everyone."
Allston Christmas is popularly known to Boston University students as a massive curbside exchange of furniture and appliances left by vacating residents for passersby to claim as their own.
In order to protect students moving to and from the Allston-Brighton area, Walsh created a task force of 50 members from the Inspectional Services Department to examine homes before new residents moved in.
"So far today, we have found 120 housing violations," Walsh said. "We've issued 21 $300 tickets for units not safe and sanitary conditions not up to speed. We've issued 1,100 code enforcements tickets. We've picked up 190 tons of trash, and we are collecting recycling for the first time this year. We've posted 120 plus bed bug notices, and we have had face-to-face interaction with over 400 constituents."
Walsh held his press conference at 24 Highgate St. in Allston, an apartment the ISD identified with a number of safety violations and one several BU students will occupy this year.
Lisa Timberlake, a spokeswoman for the ISD, said the residence has missing smoke detectors, missing carbon monoxide detectors, holes in the walls, padlocks on individual doors and broken windows.
"Right now, we don't see any monetary fines, but it seems like there are quite a few violations," she said. "The citations will be issued upon the owner, who is supposed to return today."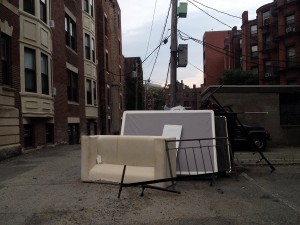 Several BU students said they have encountered issues with off-campus housing in Allston. Carlos Salazar, a senior in the School of Management, said despite problems with his apartment, he is optimistic about the new policies Walsh has implemented.
"The changes will definitely be beneficial," he said.  "For example, the people moving into my place right now are in for a bit of a rough ride. There are mice problems, leaks and the thermostat isn't too great."
College of Communication junior Kristie Evans said her landlord in the residence she moved out of was generally unhelpful.
"He never answered his phone," she said. "We asked him to do maintenance on some stuff, but he never came by. He just sent people in to fix the house without letting us know."
During his press conference, Walsh also stressed the importance of student tenants maintaining positive relationships with their landlords and encouraged them to stay in touch with the city.
"It is important that tenants know their rights and report unsolved problems to landlords," he said. "It is important for them to notify us when there are problems with their properties. You can call the mayor's hotline, you can reach out with our Citizens Connect app, or you can call ISD for an inspection."
Walsh has been encouraging residents to reach out to the city via social media by using the hashtag #Boston101.
"A lot of the new residents don't really know what to expect and don't have a framework to know what is okay when you move into a new apartment and what isn't," said Mark Handley, chief of staff of the Office of City Councilor Mark Ciommo, the councilor that serves the Allston-Brighton area. "Social media is a really powerful tool to get information out and educate folks as to what to expect and what their options are if what they are moving into is not meeting those expectations."
Walsh urged all college students to be conscientious and respectful of the people who maintain permanent residences in the area.
"I want you to remember why you are here," he said. "You are here to get a good, world-class education and you're also here in some ways to enjoy yourself a bit, but just remember when you leave here, the people that live in these neighborhoods are the people that make these neighborhoods strong."