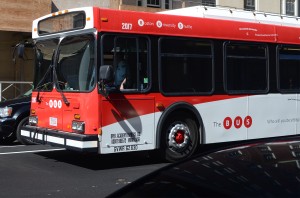 The Boston University Shuttle added daytime operating hours to its Saturday schedule for a trial run that could eventually pave the way for daytime service during the entire weekend.
Parking and Transportation Services Director Billy Hajjar said his department united BU's Medical Campus and the Charles River Campus through the new service, which started on Aug. 30, to transport medical students who staff dental clinics on Saturdays, as well as to allow BUMC students easy access to Student Health Services and the Fitness and Recreation Center.
"We expect the new service will be well-received, in that it will provide a free, friendly and reliable way for students to get to their destinations between the two campuses, similar to the weekday service to which they've all become accustomed," Hajjar said.
The new Saturday service consists of two buses operating in half hour intervals. The first bus departs from Harry Agganis Way at 6:30 a.m., and the last bus arrives at the same location at 5:25 p.m. In addition to the new Saturday hours, Hajjar said, weekday service hours have been increased to better meet the needs of students taking evening classes.
Hajjar also said his department decided to add hours to the BUS's Saturday service due to a request from the undergraduate Student Government.
SG's Chief-of-Staff Pablo Das said his organization pushed for new Saturday BUS hours to address students' academic and extra-curricular commitments on the weekend.
"Greek Life and a lot of extracurriculars meet on the weekend," Das, a College of Arts and Sciences junior, said. "Especially during the winter months, when it's snowing, when it's raining, when it's cold, it's hard for students from West Campus or far east to walk all the way to Central Campus, or the GSU [George Sherman Union], or the classroom buildings that a lot of these groups need."
Das said while campaigning, his slate realized the student body had expressed interest in extended BUS hours for several years. Das and SG President Richa Kaul, a CAS junior, decided to make the issue a cornerstone of their campaign and began working on BUS policy before the election.
"Even if we hadn't gotten elected, we still would have wanted to fulfill this promise to the student body," Das said.
Once elected, Kaul and Das met with BUMC officials, Hajjar and Craig Hill, associate vice president of auxiliary services. After drafting a proposal that addressed information such as hours, budget and usage, Kaul, Das, Hill and Hajjar agreed to implement the new Saturday BUS hours on a trial basis that will last through the current fiscal year, which ends June 30, 2015.
"At the end of the fiscal year, the usage data will be reviewed to determine whether the additional expense is justified and the shuttle buses are the best transportation solution," Hajjar said.
Das and Hajjar said that if the university catalogs a high volume of students using the BUS on Saturdays, Parking and Transportation Services will continue to operate the BUS during the daytime on Saturdays, and SG will also push for additional Sunday hours.
Das said the only fears SG held about adding Saturday BUS service was in terms of budgeting. The increased hours, however, do not draw funding from any other BU services and do not increase the cost of attendance for students, Hajjar said.
"These service enhancements exhausted the funds available for shuttle bus service for this fiscal year," he said. "At this time, there are no additional service hours planned beyond these enhancements."