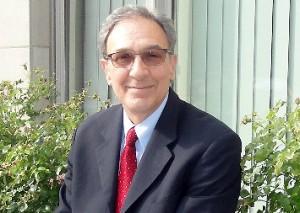 To account for vacancies created by departing staff over the past several months, Boston University Hillel welcomed three members to their professional staff, who will manage programming and work with student leaders at BU's Florence and Chafetz Hillel House.
At the start of the fall 2014 semester, David Raphael began serving as interim executive director, Ethan Sobel became director of student activities and Nomi Mitchell started serving as the Israel programmer and birthright campus coordinator.
Raphael joined BU Hillel after a 28-year career at a Hillel center in Atlanta, Georgia, and he has also served in three interim positions.
"I have been tasked to spend a year at Boston University preparing it, laying the groundwork for a full time executive director, so when that person comes, we will have made some changes and adjustments for the person coming in to really succeed," he said.
During his time here, Raphael hopes to better integrate Hillel into the university and build a larger sense of community.
"I would like my staff and student leaders to build Hillel and a Jewish community that resonates with this university and what the university stands for [by] tapping into the great energy and creativity that exists at this university," he said.
Sobel, a former BU graduate student, combines his involvement in graduate studies in communication and public relations with experience working with the division of student life in his new job as director of student activities.
"When this position opened up, it was a kind of mixture of all of my past," he said. "In a student affairs and programming position, you want to put on great events, have high attendance and [you want] there to be buzz about the events."
Sobel said Hillel's new staff hopes to give students more opportunities to become involved in the Jewish community.
"Students are agents of change," he said. "They have a stake in what happens here. They are part of a community. They have a say, and their opinion matters."
Rebecca Fleischer, president of the student board, said she quickly adjusted to coordinating with new staff members, and they have exceeded her expectations.
"Over the summer, we really started programming a lot and making sure that this semester was completely planned out," Fleischer, a senior in Sargent College of Health and Rehabilitation Sciences, said. "To have all of these new people really changed how Hillel is run in a very positive way. There's a lot of excitement with all the new staff members. They're bringing new ideas and new ways to look at things."
Fleischer said the staff and student board both aim to increase Hillel's presence and impact on campus to better reflect BU's Jewish population, which stands at over 25 percent.
"We want to up membership," she said. "There are lots of regular members that come into the building to study and eat in our dining hall. We want to bring the community together [rather than] have separate groups of Jewish students."
David Goldstein, vice president of Hillel's student board, said several of the previous staff members left to pursue other jobs, and some staff occupied more than one position before their replacements came on board.
Goldstein said based on how well new staff members have done in a short amount of time, he is confident they will continue to do well even after he leaves the student board.
"I've met with Nomi and Ethan, and so far there has been improvement, and I'm very confident that we'll be able to accomplish everything I want in my last year here," he said. "When I'm not here, power will be in good hands."