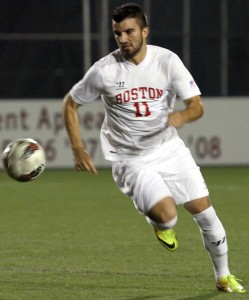 Looking to continue its early-season winning streak, the No. 23 Boston University men's soccer team will go on the road and visit Siena College Wednesday.
The Terriers (2-0) are ranked in the National Soccer Coaches Association of America poll, released on Tuesday, for the first time since 2009. Even with this milestone, BU coach Neil Roberts is not putting too much stock in his team's national recognition.
"It doesn't really matter because it's so early in the season. We're only worried about what we're doing," Roberts said. "We're just trying to get better each day, which the guys are trying really hard at, so obviously it's nice. But it's not what we're looking for right now."
Late-game goals have fueled the Terriers' win streak to start the season. In BU's first game of the year, junior forward Lucas McBride scored in the last second of the first overtime period.
In the following game, it was sophomore forward Felix De Bona's score in the 75th minute on a free kick from freshman defender Bjarki Benediktsson that propelled BU to victory.
"You hope that it's not a consistent theme," Roberts said. "If you look at the games, we traded a lot of chances in the first half, especially in the first 20 minutes, and we hope that as time goes on, we'll be able to finish."
The Saints (1-0) have only played one game this season, a 1-0 win over La Salle University, in which Siena allowed no shots on goal over the entire match.
"Siena's coach [Cesar Markovic] was a long-time coach at Stony Brook [University] who's always played great against us, and we've had some great games," Roberts said. "We've seen a little of them on film, and they've got a couple flank players that are really quick and play good defense, so they're like Iona [College] in that way."
Siena is still figuring out its identity, as there are only three seniors on a roster that feature 10 freshmen. The team also has three freshmen goalkeepers, including the starter of its first game, Josh Weiss.
Two of the team's top returning goal scorers are junior Tom Allen and senior Nathan Olukanmi, who both have six goals in their collegiate careers. Allen's goal would prove to be the winner in the Saints' first game of the year.
Olukanmi has seen significant action in all his years at Siena, and he was a member of the Metro Atlantic Athletic Conference All-Rookie team in 2011.
The Terriers' most experienced goal scorer has generated a lot of noise over his first two games without any success.
Senior forward Dominique Badji has 14 shots on the year including four on goal, but none of them have reached the back of the net after scoring a team-high six times last season.
"We don't really design our attack for Dom [Badji]," Roberts said. "He's very athletic, very quick, very good, and he takes a lot of chances but it's just something that happens in the flow of the game."
Badji's recent lack of production could be due to the attention that opposing teams are giving him because of his well-documented scoring abilities.
"If they focus on him, then we'll have other guys that'll be able to pick it up, but Dom will get his chances," Roberts said. "Give him time. He'll score."
Roberts said there are a lot of positives to focus on for this Terrier squad, but the biggest takeaway has to be BU's string of success to start the year.
"The good thing about the games this weekend was that we created a lot of good chances and had a lot of good offense, so we just need to bring that forward," he said. "At this point in this season, we're doing OK, but we know that right now, we're probably at 50 or 60 percent of what we're capable of doing."