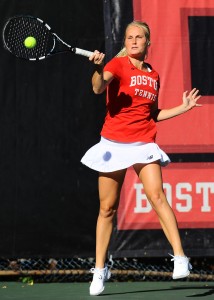 Just over five months removed from a Patriot League title, the Boston University women's tennis team picked up right where it left off this past weekend with a strong showing at the Brown Invitational in Providence, Rhode Island.
BU competed in both singles and doubles play during the three-day event and earned solid victories across the board.
Playing in the tournament's top singles flight, junior and reigning Patriot League Player of the Year Johanna Hyoty posted two commanding wins before falling in the finals in straight sets to No. 108 sophomore Danya Lord of Brown University. Also in the Brown flight, junior Lauren Davis went 1-2 in three matches.
In the Gold flight, sophomore Barbara Rodriguez bounced back from a tough opening loss to freshman Kristina Vozniack of Stony Brook University to win the consolation bracket. Junior Kim McCallum had a tougher time, losing all three of her matches in straight sets.
Freshman Iryna Kostirko dominated the Scarlet flight with three wins, all in straight sets. The Black flight saw junior Madison Craft win two three-set battles to become the third Terrier to reach a singles final. Facing off against freshman Yana Nikolaeva of Stony Brook, Craft was unable to replicate her performances, losing 6-3, 6-1.
The duo of Rodriguez and Kostirko also saw success in doubles play. In the Bears flight, the tandem opened things up with an 8-5 win over Chloe Lee and Lindsey Kayati of Rutgers University. In the quarterfinals, Rodriguez and Kostirko were edged out in an 8-7 decision against Lord and junior Hannah Camhi of Brown.
After being moved to the consolation bracket, the pair finished with two straight wins over junior Louise Badoche and sophomore Nadia Smergut of Stony Brook and junior Ammu Mandalap and freshman Maddie Stearns of Brown.
Also in the Bears flight, Hyoty and McCallum reached the semifinals with solid victories over senior Kathleen Uy and Nithila Asokaraj of the University of Rhode Island and seniors Sarah Kandath and senior Nikita Uberoi of Brown. Hyoty and McCallum then met their match in freshman Alyza Benotto and junior Ashley Noyes of Brown, who earned a close win over the Terrier pair.
BU's third doubles team of sophomore Iris Lin and senior Sophie Wyman took part in the Eagles flight, losing both matches to duos from the University of Massachusetts-Amherst and Rutgers.
Next up for the Terriers as a team is the ITA Northeast Regionals at Yale University from Oct. 16 to 21.