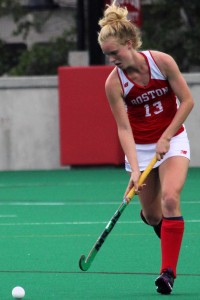 The Boston University field hockey team defeated Harvard University by a score of 3-1 on Sunday afternoon at New Balance Field.
Just a little over 24 hours after a tough loss to a Patriot League opponent in Bucknell University, the Terriers (5-5, 1-1 Patriot League) were looking to bounce back both offensively and defensively.
"[Bucknell] (6-3, 2-0 Patriot League) outworked us, they outplayed us and they outsmarted us," said BU coach Sally Starr. "To come from that type of situation, a little more than 24 hours later, to be able to come out here today, we played well. We needed to mature quickly, and when we got off the bus yesterday, I said we have to leave Bucknell on this bus and get ready for today's game."
In the first half, the Terriers started strong, taking a total of sevens shots, as well as showing off an attentive defense against the Crimson (6-4). In the eighth minute, sophomore forward Amanda Cassera scored her sixth goal of the season off a corner redirect at the post. The goal was assisted by sophomore fullback Bea Baumberger Altirriba.
"We found a good balance today," Starr said. "Our tackling was clean, our running lines were better and we played much more aggressively today, which created some good offense for us as well."
BU played a strong defensive game as well, with senior goalkeeper Valentina Cerda Eimbcke making seven saves in the game and blocking all but one of the Crimson's first half shots.
In the 18th minute, Harvard junior Elizabeth Jacobsen evened the score at 1-1 on a reverse-stick shot. However, BU would respond, as sophomore forward Taylor Blood scored her third goal of the year in the 32nd minute of the game. The goal was assisted by sophomore Cassera's pass from in front of the cage.
"When we passed and we played a possession game, we played really well," Starr said. "We just didn't do it consistently enough. Once we got into some good rhythms, we played some really good hockey. Our right side attack was excellent."
In the second half, the Terriers continued their aggressive play, with sophomore midfielder Hester van der Laan scoring her fourth goal of the season in the 58th minute, giving BU a 3-1 lead over the Crimson – a score they would not relinquish.
"In the second half, anytime we tried to come down the left, they were winning the ball," Starr said. "We were smart enough and our spacing was good enough that we could really create some good attack down the right. We did a better job of handling their interior midfielders."
The game marked Starr's 400th victory as head coach of the Terriers. The team will next take on Providence College Wednesday night in Rhode Island.