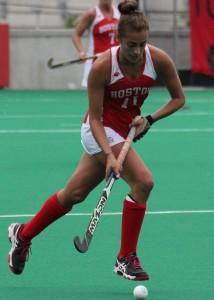 Just three days after a successful win against crosstown rival Harvard University on Sunday, the Boston University field hockey team will make the trip to Providence, Rhode Island Wednesday to take on Providence College in a non-conference matchup.
The Terriers (5-5, 1-1 Patriot League) put forth an impressive performance this past Sunday against Harvard (6-4), winning by a final score of 3-1. The game featured goals from sophomore forward Amanda Cassera, sophomore forward Taylor Blood and sophomore midfielder Hester van der Laan. Senior goalkeeper Valentina Cerda Eimbcke also performed admirably in net, making a total of seven saves.
Providence College (8-4) is on a hot streak, having won six of its last seven hockey games. Most recently, the Friars beat Quinnipiac University 5-1 at home this past Sunday.
The Friars currently rank seventh in scoring average, eight in goals per game and ninth in points per game in the NCAA. Three of their players, freshman Megan Hamilton, senior Daniella Bernasconi and senior Steph Guglielmo currently have over 20 points this season.
At the teams' last meeting on Sept. 15, 2013, BU came out on top, winning 2-1 in overtime.
The Terriers will be armed this time with an improved scoring arsenal led by Blood, who has a four-game point streak, which includes three goals in those four games. After not scoring a single goal her freshman year, this offensive production is a welcome sight for BU coach Sally Starr.
Along with Blood, Cassera — last year's Patriot League Rookie of the Year — has also remained consistent recently, putting up points in four of the last five games. Against the Crimson, Cassera scored a goal and assisted on Blood's go-ahead goal.
With signs of offensive life, BU will prove to be a difficult matchup down the stretch for opponents.
BU coach Sally Starr was not available for comment for this article.