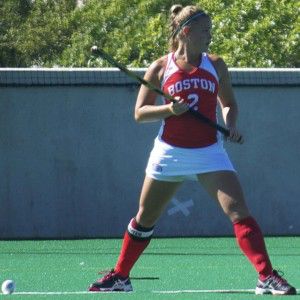 Hot off a key win over Providence College Wednesday night, the Boston University field hockey team will face off against Patriot League opponent Lehigh University Saturday at New Balance Field.
The win against Providence (8-5) was the Terriers' (6-5, 1-1 Patriot League) second-straight victory and saw solid offensive and defensive efforts. Freshman midfielder Kali Shumock scored her second goal of the season, assisted by junior forward/midfielder Sofi Laurito, playing in her first game since receiving a red card in a game against Northeastern University on Sept. 29. Junior fullback Rachel Coll scored her second goal of the season, assisted by sophomore forward Amanda Cassera. Senior goalkeeper Valentina Cerda Eimbcke made a total of six saves throughout the game.
"We need to sustain quality playing throughout the first half and the second half," said BU coach Sally Starr when asked about any improvements the team needs to make. "We're putting good pieces together at different stages of the game, and I would like to see consistency of that type of play to the 70th minute. We've been giving up scoring opportunities to our opponents within the last 10 minutes of the game, and that's something we need to clean up."
The contest against Lehigh (4-8, 1-2 Patriot League) will be the third conference matchup of the season for the Terriers and will be an important stepping-stone on the way to the Patriot League Tournament.
"Every Patriot League game really is huge. Not every team makes the Patriot League tournament, so we are trying to play our way into the tournament, so every Patriot League game that we have is important to get the win," Starr said. "To play well and get the victory gets us one step closer to being one of the four teams that get to compete for the Championship."
The Mountain Hawks are in the midst of a difficult season, having lost their first five games, but they are making a steady comeback, winning three of their last five matches.
Lehigh has struggled both offensively and defensively, as the Mountain Hawks rank sixth in the Patriot League in scoring average while the defense has yet to record a shutout. Sophomore Gabby Tofig leads the team with seven goals and 14 points, while junior Lindsey Schott is second with four goals and 11 points.
Despite their inability to score, the Mountain Hawks have put up plenty of chances. The team's 173 shots and 75 penalty corners earned are both tops in the Patriot League.
The Terriers are paced offensively by Cassera and Laurito. Cassera is tied with Tofig for first in the conference in points.
"You've got to take it one game at a time, and Lehigh is our next Patriot League opponent," Starr said. "It's a big opportunity to get one step closer to the Patriot League tournament."