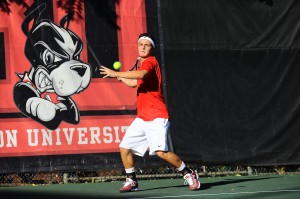 The Boston University men's tennis team made the quick trek across the Charles River to play in the MIT Invitational on Friday and Saturday in Cambridge.
Facing off against opponents from the Massachusetts Institute of Technology, Harvard University and Bryant University, the Terriers posted a 5-6 record in singles play while compiling a 0-3 record in doubles matches.
The Terriers received a big boost from sophomore Lucas Bombonatti, who recorded two straight wins in singles play after defeating MIT senior Eugene Oh (6-2, 7-5) and Bryant junior Richard Sipala (6-3, 6-3).
After taking a 3-6, 6-4, 10-8 loss at the hands of MIT junior Kevin Wang, sophomore Jay Leelavanich responded by besting both Bryant junior Max Vogt (6-1, 6-1) and Harvard senior Alex Steinroeder (2-6, 6-4, 10-8). Another sophomore earned a singles win for the Terriers, as Jake De Vries earned a 6-1, 6-2 victory over MIT sophomore Kenny Gea.
In doubles play, the duo of junior Josh Hurd and senior Emilio Teran lost to MIT juniors Jeffrey Bu and Dennis Garcia (6-4, 6-2), while De Vries and sophomore Miguel Cepeda came up short against Bryant freshman Joshua Kliger and redshirt freshman Nick Lamart (6-4, 6-1). Finally, the BU grouping of Bombonatti and junior Stefan Lemire were defeated by Harvard freshmen Xavier Gonzalez and Jean Thirouin (6-4, 6-1).
The Terriers will not take to the courts again until January 2015, as the team will host the College of the Holy Cross for a match at the Tennis and Track Center on Jan. 24.
Women's golf finishes seventh at Jacksonville Courtyard Classic
The Boston University women's golf team wrapped up its fall schedule on Monday, as the Terriers participated in the Jacksonville University Courtyard Classic at Marsh Landing Country Club in Ponte Vedra, Florida on Sunday and Monday.
The Terriers finished the tournament in seventh place among 14 teams, compiling a score of 910 over the 54-hole tournament.
Sophomore Adela Cejnarova started off strong for BU, posting a score of 69 on Sunday — three-under-par, which set a new program record. The Prague native finished with a final mark of 223, tying her for 11th place in the tournament.
BU received a strong showing from freshman Phyllis Tang, who stood as the only player on her to team to shoot under 80 through all three rounds of the Classic. Tang eventually finished in 20th place with a final score of 227 (74-76-77). Both junior Emily Tillo (76-73-81) and senior Flor Canedo (75-75-80) tied for 29th place with 230 strokes, while senior Kristyna Pavlickova (77-81-84) settled for a tie in 63rd place.
BU will take a break from play before starting their spring season at the Kiawah Island Intercollegiate in Kiawah, South Carolina, from March 1 to 3.