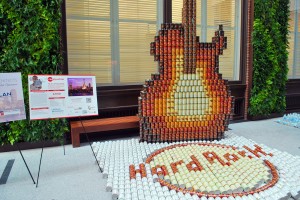 For those who have ever wanted to see a 10-foot sculpture of Grumpy Cat made entirely out of canned goods, the time has come. Canstruction Boston kicked off its build and design competition Saturday at the Boston Society of Architects Space in the Atlantic Wharf building with a bang, as teams assembled pop culture-themed sculptures of everything from Super Mario to a giant set of Beats headphones using only canned food.
"Canstruction is a design-build competition for architects, engineers and construction companies," said Kerry Heckman, chair of the Canstruction Boston committee and one of the event's organizers. "They build structures made of cans that are up to 10-feet tall, 10-feet wide and 10-feet long. After three weeks, the structures come down, and the food is donated to the Merrimack Valley Food Bank."
The sculptures were designed and constructed by 16 teams composed of employees from architecture, engineering and construction firms, including some college students. Teams are judged on a variety of categories including best meal, best use of labels, structural ingenuity, jurors' favorite, honorable mention and people's choice.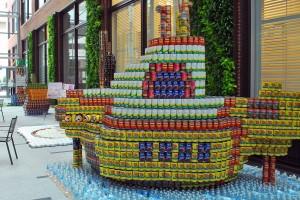 "We try and find as many partnerships possible, and we definitely encourage that," said Allison Scott, a member of the Canstruction Boston steering committee and an event organizer. "It's an expression of collaboration in our industry."
Choosing the theme for the competition is a collaborative effort as well. Each year, the event's organizers poll their previous build teams on what they would like to be inspired by. The most popular theme is then chosen.
"They [the polls] all came back to us, and pop culture was a big popular concept [this year], especially because it lends itself to so many ideas," Scott said. "That's what is really exciting, because we know that it could mean anything. We have a theme that's a little more abstract, and it gives people a lot of room for creativity. And that's what we like to see, different ideas coming to life from different perspectives."
Nitsch Engineering, competing for the 13th year in a row, took an interesting approach to the theme after being inspired by a well-known feline character in pop culture.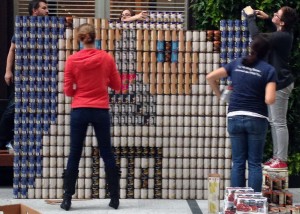 "With the theme of pop culture this year, we brainstormed and had all kinds of ideas because pop culture is pretty big and vague. What it came down to in the end was doing a meme," said Anna Luciano, Nitsch team leader. "We excel in building walls, basically. Memes seemed like a good fit because of their flatness [two-dimensional nature], and Grumpy Cat just seemed like the most famous of all memes."
Founded in New York in 1992, Canstruction started as a charitable event for the Society for Design Administration. Employees of architecture, engineering and design firms came together and started holding the competition every year. Gradually, Canstruction spread to other cities, making its way to Boston in 1995.
More than just a chance for local engineers, architects and designers to stretch their creative wings, Canstruction Boston is part of a bigger picture, Scott said.
"Part of this event is building awareness regarding hunger and the struggles that many of our friends and neighbors deal with on a daily basis," she said. "What we really ask of the public is for them to come and see the time, effort and love that our teams have put forth into creating these structures. And if you have an interest, bring a can. Bring an open box. We're accepting canned donations, so that's what we ask of the public. To come, visit, donate if you can and pay it forward."
While the public voting for the people's choice category has already closed, the free Canstruction exhibit will be on display at the BSA Space in the Atlantic Wharf building at 290 Congress St. until Oct. 31.