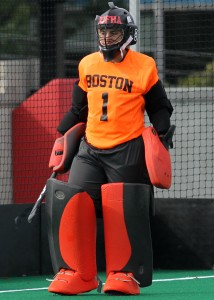 The Boston University field hockey team is in the final push of its season, with two of its last three regular season games occurring this weekend against Patriot League opponent American University and non-conference opponent The University of Virginia.
The Terriers (8-7, 3-1 Patriot League) will travel to Washington D.C. Friday afternoon to take on the Eagles (8-6, 3-1 Patriot League) and will play No. 8 Virginia (12-5) at New Balance Field Sunday.
After a tough overtime loss to non-conference opponent University of Massachusetts-Amherst Sunday, the Terriers are looking to move forward and continue their preparation for the Patriot League postseason tournament.
"We've been really close in the games that we've played against teams that are ranked top 10, such as our Northwestern [University] game, our BC [Boston College] game and University of Connecticut game," said BU coach Sally Starr. "All those games went into overtime, and I would love to see if we could win one of those games."
The game against American on Friday will be a prequel to what could be a potential matchup for the Terriers in the first round of the Patriot League playoffs. The Eagles are currently ranked second in the Patriot League, but have only won two of their last five games, while BU has won four of their last six matches.
Fullback Grace Wilson leads the Eagles with five goals and four assists, while sophomore forward Amanda Cassera leads the Terriers with eight goals and three assists.
"I think the biggest thing is that we're really just going to take one game at a time. There's absolutely a very good chance that we will be playing American in the first round of the Patriot League," Starr said. "This is a regular season game, and I think we're going into the game just trying to play our best hockey and see what we can do. We're just going out and doing the things we need to do well to be successful."
Sunday's game against the Cavaliers will be a big challenge for the Terriers. Freshman Tara Vittese leads the Cavaliers with a total of 15 goals and 16 assists this season.
For the Terriers, senior goalkeeper Valentina Cerda Eimbcke was named this week's Patriot League goalkeeper of the week.
"She [Eimbcke] had an outstanding game on Sunday at UMass," Starr said. "She's a captain, she's a leader, the girls love her and she's having a great senior year."
Eimbcke made a total of five saves against UMass (8-8), two of which kept the Terriers in the game into overtime.
Even with Eimbcke's leadership, a generating offense, and a strong defense, the Terriers are looking to make improvements in their preparation for the playoffs.
"We need to get our corners better and continue to solidify our defensive press. I'd like to see us score more goals and work hard on being better in our attacking zone of the field, and that includes our attack penalty corners as well," she said. "The biggest thing right now is just getting better every day in practice and taking advantage of the last three games that we have in the regular season to improve to the best we can."