When you score 26 goals through three games like the No.11/12 Boston University men's hockey team did to start 2014-15, the offense becomes a focal point. After scoring a combined 13 times in three third periods thus far, it would be safe to say the forwards have closed out games with some style.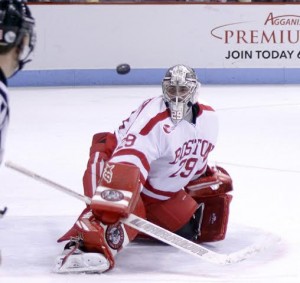 So when one team dominated the final minutes of the last period of play Friday night at Agganis Arena, one would most likely assume the Terriers were controlling the pace of play.
And on this night, one team did dictate the play of the final period — but not the Terriers. Michigan State University brought forth an impressive forecheck that attacked junior goaltender Matt O'Connor and a youthful penalty kill.
When freshman defender Brandon Hickey skated to penalty box for a holding minor with just under four minutes to go in the third and a one-goal lead in hand, an unproven group received its biggest test of the young season.
It wasn't the cleanest of efforts, but BU (2-0, 1-0 Hockey East) passed it.
Michigan State (1-2) rattled off shot after shot in the waning minutes, but O'Connor and stout penalty killing from junior captain Matt Grzelcyk and sophomore blue-liner Doyle Somerby paved the way for a 1-0 victory.
For O'Connor, like he said before the season started, it was all about keeping a good mentality to record his first collegiate shutout.
"It's a different tempo," he said of the third period. "Negative thoughts like that don't creep in. I think that's one of my strengths. I like to have fun out there and stay loose and I know that their team was playing well, so I tried to stay positive."
BU coach David Quinn felt his team played well in spite of the fact that it had its lowest offensive output this season. After all, a win is a win even if it's not pretty.
"Sometimes it's not a beauty contest — you gotta win games like that," Quinn said. "I give Michigan State a lot of credit. I thought they really turned the heat up on us toward the end of the game. I thought their last seven or eight minutes they played really well. [Michigan State] got a couple of power-play opportunities where I thought our penalty killing stood tall."
Through the early stages of the game, though, BU controlled possession. In the first period alone, the Terrier rattled off 31 shots toward net (14 on goal). Michigan State goaltender Jake Hildebrand came up in good position each time, matching O'Connor's performance. For the first time all year, the Terriers were shut out in a period.
Quinn chalked up BU's lack of scoring to Hildebrand's No. 3 star performance and the fact that his team waited for the perfect shot. The perfect shot rarely came.
"I thought we were just too cute in general tonight," Quinn said. "Usually when you take your time shooting it, you don't shoot off instinct and we just gave him a chance to set up. And he's big and he's a good goalie and stood tall. Our problem will be that we will get too cute at times this year.
"And we need to understand that you're going to have to get dirty goals, you're going to have to have a net-front presence in the offensive zone more often than we have."
As much as the Terriers had trouble in the first period, the offense lit the lamp early in the second. On a cross-ice feed from freshman forward Jack Eichel, junior winger Ahti Oksanen deposited the puck high glove side on his backhand for his first regular season goal of the year. Both Eichel and Oksanen each have a point in every game, including the two exhibition games.
"It was a good pass from Eichel," Oksanen said. "I wanted to shoot it right away, one-timer, but I couldn't, so I had to turn it to my backhand and I just tried to shoot it to the net — not really knowing where it would go."
The Terriers sustained pressure throughout the frame, garnering 17 shots on goal. It was the Spartans, however, that almost scored next. O'Connor protected an open-net chance with a sprawling pad save to deny defenseman Ron Boyd of the tying marker.
And without offensive help in the third, O'Connor took over the game with 14 saves, including some key ones during Michigan State's final flurry with an extra attacker, to seal the win.
"I thought our goalie played well down the stretch, Quinn said. "And again, you love to score five-six a night, that's just not realistic. You need to find ways to win games like this, and I thought we did a good job of that tonight."