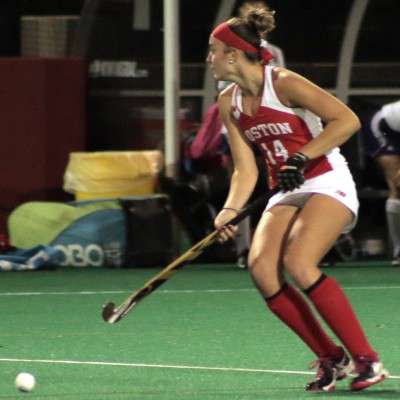 The No. 20 Boston University field hockey team played its last regular-season game of the 2014 season against Colgate University Saturday afternoon at New Balance Field, ultimately coming away with a 4-1 win on Senior Day.
The Terriers (11-7, 5-1 Patriot League) made the best out of the stormy weather conditions, taking a lead over the Raiders (5-11, 3-3 Patriot League) early in the first half. In the 11th minute, junior midfielder/forward Sofi Laurito deflected a shot from sophomore midfielder Hester van der Laan from just outside the circle, opening the scoring of the game and giving the Terriers a 1-0 lead.
Just three minutes later, sophomore forward Amanda Cassera recorded her team-leading 10th goal of the season on another pass from van der Laan. Cassera leads the entire Patriot League conference in both points (25) and goals (11).
"Amanda just keeps getting better and better," said BU coach Sally Starr. "I really feel we're becoming more dangerous in our attacking third, and Amanda just epitomized that today."
In the second half, the Terriers were able to solidify their lead with another goal from Cassera, as the Fairfield, New Jersey native fired a shot from the right circle to make the score 3-0 at the 44. However, after a turnover from the Terriers in the 60th minute, Colgate forward Eliana Brown recorded a goal on a rebound shot in the air and over senior goalkeeper Valentina Cerda Eimbcke's head to cut BU's lead to two.
However, with six minutes left to play in the game, sophomore fullback Rachel Feig scored her first goal of her collegiate career on a deflection from a Colgate player, making the final score 4-1. Sophomore goalkeeper Cammy Jensen played the last five-and-a-half minutes of the game and saved the only shot she faced.
"We played some really sweet hockey at times. We passed well, we moved the ball well, and we were very dangerous," Starr said. "I would like to see our strikers pull the trigger a little bit quicker in the circle. We created good scoring opportunities, but we didn't capitalize on them as well as we could have. It was just a good conference win on Senior Day."
The Terriers secured the second seed for the Patriot League tournament at Bucknell University beginning Friday. In the first round, BU will face American University, whom they defeated 3-1 on a trip to Washington D.C. on Oct. 24.
"We really wanted to make sure to continue the momentum from last weekend, and even the last two to three weeks," Starr said. "We have confidence right now, and we're excited for next weekend."