In each of its previous four games prior to Saturday, the No. 5 Boston University men's hockey team had allowed the opposing team to score first.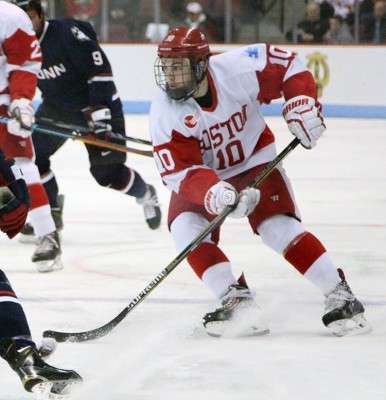 Not on Saturday night. Against the University of Connecticut, junior forward Danny O'Regan hit the back of the net just 35 seconds into the game. And when O'Regan gave his team a 4-3 lead with just more than four minutes remaining, the Agganis Arena faithful thought the Terriers (5-1-1, 3-1-1 Hockey East) were headed to their fourth comeback victory of the season.
But instead, a back-and-forth overtime affair resulted in a 4-4 tie between BU and UConn (2-4-3, 1-2-0 Hockey East) on Saturday.
"It might have been the worst thing to happen to us to score that early," said BU head coach David Quinn. "I think we kind of thought it might be easy, and then they had some chances… We've had a resolve all year when we get down, and we battle back. And tie it and then go down. Tie it, then we go up and they tie it.
"It was a seesaw. Probably justice that both teams got a point."
At the 16:46 mark of the third period, forward Shawn Pauly scored a game-tying goal for the Huskies on a 4-on-3 opportunity, when he trickled the puck past BU freshman goaltender Connor LaCouvee.
"It was a big one," Quinn said. "50-50 puck up in the air, we try to grab it and go on offense instead of being safe, and we made a bad decision there, and it cost us a goal, but we had chances. We missed the net a lot, shot the puck wide. We got sloppy at times, but when you don't play well, your opponent has something to do with it too. You don't want to take any credit away from UConn."
O'Regan gave the Terriers a late lead at the 15:43 mark of the third, when he broke into the zone, outskated a UConn defenseman, deked and finished with a pretty backhand to give BU a 4-3 advantage. But that lead was cut off just more than a minute later with Pauly's goal.
For his early goal, O'Regan twirled around a defender and scored on a backhanded shot just 35 seconds into the game. That goal was matched 2:08 later by a UConn score, a rebound from Pauly.
The Huskies struck again in the second period, after BU freshman forward Nikolas Olsson was called for a five-minute major for contact to the head. Forward Trevor Gerling cashed in a rebound for a 2-1 Husky lead at the 18:50 mark of the frame.
Freshman defenseman Brien Diffley tied the game at two goals apiece 39 seconds into the third period. His first collegiate goal came on a pass from freshman forward Jack Eichel, which Diffley zipped in from the right circle.
Eichel had three assists in the game, which extended his points streak to at least one point per game through BU's first seven game.
UConn took a 3-2 lead nine minutes into the third period, on a goal after a Gerling backhand. Thirty seconds later, though, BU junior forward Mike Moran batted in an equalizer — his second goal in as many nights — with 11 minutes remaining on a pass chipped in from Diffley.
LaCouvee tallied 22 saves in the contest for BU, including a big overtime stop on a shot from forward Corey Ronan in the slot. UConn goalie Rob Nichols had 30 stops.
The Terriers played without junior forward Ahti Oksanen, who was hit hard during Friday's 5-3 win against No. 3 Boston College. After the UConn game, Quinn said the status of Oksanen was "day-to-day." Senior assistant captain Evan Rodrigues replaced Oksanen on the first line Saturday, and Rodrigues tallied two secondary assists.
Meanwhile UConn, a team that was picked to finish last in the league in its first year in the Hockey East Conference, earned three points in two games this week against BC (4-4-0, 1-3-0 Hockey East) and BU.
"We're just trying to take it one day at a time and keep getting better," said UConn head coach Mike Cavanaugh. "We stole a line from Bill Belichick and said, 'Ignore the noise'… We have a foundation that we're building, and we want to keep making that foundation stronger and stronger with every game."
And just what impact did the Huskies' three points against two top-five teams make?
"You tell us," Cavanaugh said to reporters following the game. "You guys seem more surprised than we are."