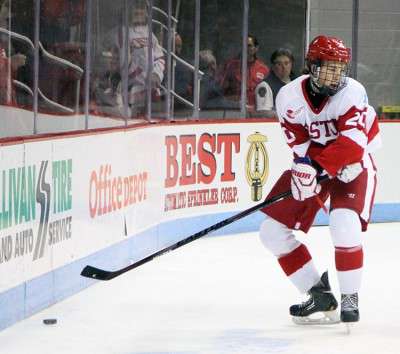 It can be easy to overlook freshman defenseman Brien Diffley whenever he skates out on the ice for the No. 5 Boston University men's hockey team.
The Buckingham Browne and Nichols product might be seen as the odd man out in a BU blue-liner corps consisting of four NHL draftees, but the Burlington native earned his keep over the weekend, registering three points in two games against No. 3 Boston College and the University of Connecticut.
"Diffley's played very well all year, really," said BU coach David Quinn. "It's nice to see him get rewarded from an offensive perspective. He's a guy that is pretty steady. He's made a transition look a little bit easier than I envisioned.
"I knew he was going to be a good player, but he's certainly played an awful lot of minutes. He's a guy that doesn't get rattled, he defends well, he skates well, he keeps it pretty simple. It's good to see a guy like that who's kind of flown under the radar get rewarded statistically tonight."
Diffley first made his mark on the score sheet Friday night against the Eagles (4-4, 1-3 Hockey East), collecting an assist of a goal from junior forward Mike Moran at 1:59 in the third period – helping the Terriers (5-1-1, 3-1-1 Hockey East) spark a four-goal outburst over the final 20 minutes of play en route to a 5-3 win over BC at Conte Forum.
Less than 24 hours after recording his career collegiate point, Diffley chipped in his first goal as a Terrier.
With BU facing a 2-1 deficit early in the third period against the Huskies (2-4-3, 1-2-1 Hockey East) Saturday night, Diffley made his move. The 6-foot-2 defenseman skated away from the blue line and lurked near the right circle in UConn's zone.
Diffley was quickly greeted with the puck off a pristine pass from freshman forward Jack Eichel. Diffley blasted the one-timer toward UConn goaltender Rob Nichols — who could do little to halt the puck as it sailed over his glove-side shoulder and into the net — equalizing the game at 2-2 just 39 seconds into the final stanza.
"To be honest, I don't really remember much of it," Diffley said. "Nerves took over there a bit. But I just saw Jack coming down the wing. He curled up towards the blue line. There was no one at the point, so I just slid in there. He made a perfect pass.
"I couldn't ask for much more there, and I just kind of ripped it. Coach was saying all night, 'Get pucks to the net,' so when I had that chance, I just ripped it."
After a goal from UConn forward Trevor Gerling put the Huskies on top at 9:00 in the third, Diffley once again helped the Terriers claw back into the contest.
Just 30 seconds after Gerling's tally, freshman defenseman Brandon Hickey uncorked a shot from the point that sailed into a mass of skaters crowding the UConn crease. The puck ricocheted off the amalgam of bodies in front of the net before Moran batted in the biscuit past Nichols to once again tie the game 3-3 with 10:30 remaining on the clock.
BU would eventually settle for a 4-4 draw against the Huskies, with Diffley acknowledging that a three-point weekend in the highly competitive Hockey East is a result not earned by many teams across the conference.
"It's definitely not what we wanted, but we can't really complain with three out of four [points]," Diffley said. "A pretty tough league, so any point you get is a good point. Obviously, the guys are a bit disappointed, but three out of four is pretty good."