In comprising a universal self-care checklist, sleep, exercise and eating copious amounts of veggies are some of the doctor's most common orders. But on Friday, Boston University School of Medicine and Harvard Pilgrim Health Care are holding a lecture on a commonly overlooked self-care method: mindfulness.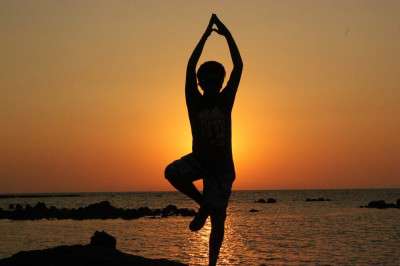 "Mindfulness is a quality of mind that is awake, is aware, alert and knows it. It's like a metacognition," said Tara Healey, program director for mindfulness-based learning at Harvard Pilgrim Health Care. "Think of a time when you've been lost in thought and you wake up from it and go, 'Where was I?' Then you wake up and now you're in charge of your attention."
During the lecture, titled "Mindfulness: How the Science and Practice of Awareness Improves Well-Being and Performance," Healey will shed light on the science and practice of this thought-provoking technique alongside Judson Brewer, assistant professor of psychiatry at Yale School of Medicine and featured TEDx speaker.
Variations on meditation comprise the bulk of known mindfulness strategies. The "get lost" nature of these strategies results in a surprising amount of control, Brewer said.
"We do a much better job of doing things when we are not trying to do them, when we just let them do themselves," he said. "Mindfulness is about creating that new habit."
Adoption of this "new habit" paves the way to increased productivity and a sharper mind, Healey said.
"Mindfulness allows you to be more intentional about what you do and what you say," she said.
As a long-time employee of Harvard Pilgrim Health Care and a practitioner of meditation herself, Healey proposed the inclusion of mindfulness techniques in Harvard Pilgrim's programming in 2005. In 2006, the health care provider launched a pilot program of meditation classes.
"I approached the VP [vice president] and said, 'I think there's an opportunity to bring meditation into the workplace as [a technique] uncoupled from any religious affiliation, to really bring it in in a secular way,'" she said. "He said, 'OK, let's do it.'"
Much to her delight, the program became immensely popular. In its early years, Healey ran classes quarterly with an average of 80 people on the waiting list.
"It was insane," she said. "It was one of those things where you just think, 'Who knew?'"
And the method continues to grow in popularity beyond Healey's efforts. The world's growing affinity for mindfulness can be attributed to the combination of its benefits and its lack of religious affiliation, Brewer said.
"Western folks went over to Asia and studied very carefully with some wonderful masters, then started disseminating some of this information," he said. "You have that triple threat of science, this information coming to the West and the explosion of information being shared around it. In the West, it [mindfulness] is really secularized, so a lot of people go and learn mindfulness because it's not religious."
Like Healey, Brewer found that his experiences in practicing mindfulness techniques provided him with positive results. His knowledge of both the science and the method give him a good perspective on the matter, he said.
"It really came out of my own personal experience with it [mindfulness] and seeing how it overlaps quite well with psychiatry," he said. "During the lecture, I'll be focusing a lot on the science, but also talking in very pragmatic terms about how people can apply this in their own life."
In terms of self-care, Healey said the practice of mindfulness goes beyond anxiety and stress and can be a good habit for any functioning mind.
"This really is not about managing stress or developing more focus or concentration," she said. "That's just a by-product. It is really very much a wisdom practice of seeing clearly what things are, not what we wished they were."
"Mindfulness: How the Science and Practice of Awareness Improves Well-Being and Performance" will take place from 7:30 to 11:30 a.m. Friday at Harvard Pilgrim Health Care in Wellesley, but BU students and faculty will be able to tune in online at the BUSM Continuing Medical Education website for a fee.