Downtyme, cofounded by Boston University College of Engineering juniors Barron Roth and Luke Sorenson, placed first out of nine schools participating in the second annual Massachusetts Institute of Technology Enterprise Forum of Cambridge's Beantown Throwdown startup competition Wednesday.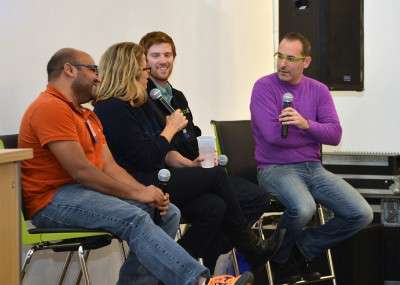 Katja Wald, executive director of MIT Enterprise Forum of Cambridge, said the organization invited more schools to participate this year after receiving positive feedback from their Crimson on Cardinal Startup Throwdown in 2013, which only included entries from Harvard University and MIT. This year, more than 400 students, sponsors and investors attended to see nine different colleges participate, including BU, Boston College and Northeastern University.
"We put these programs on because we know that students and entrepreneurs need mentors," Wald said.
Downtyme were able to compete in the Beantown Throwdown after they won a competition for startups on campus hosted by the BUzz Lab, which opened on Oct. 30. The first application to save you from your smart phone, Downtyme lets users match up their free time with friends using manual scheduling or a calendar sync function. Users can send friends nearby a request to eat, study or simply hang out. Although the app has been in beta mode since March, Roth said a full version would launch January 2015 for the spring semester.
A panel of entrepreneurs and investors, moderated by The Boston Globe Innovation Economy columnist Scott Kirsner, started the night by talking about their experiences in the startup and entrepreneurship field. Last year's competition winner, Dip Patel from MIT, said when it comes to being a successful entrepreneur, customers have to appreciate the vision as much as the visionary.
"Sales is all that matters," he said.
Katie Rae, managing director at Startup Accelerator Techstars Boston, advised students to be aware of the question she has for every entrepreneur that works to the startup company: "Why is this product important and why do you have to be the one to do it?"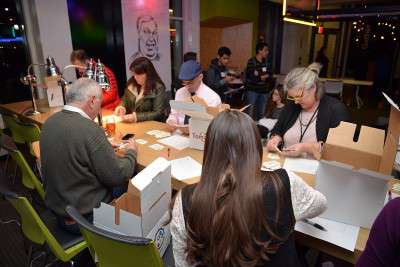 Representatives from each startup team had three minutes to pitch their projects to the room, followed by a one-minute question-and-answer session from the panelists. Between pitches, sponsors of the competition, including data company DataXu, Inc. and software company HubSpot, Inc. were invited to try to recruit student audience members, who were admitted into the event free of charge.
After all the pitches were completed, the audience was invited to "invest" in the companies of their choice with the $3 million in fake money each person was given upon arrival.
Roth, who presented the pitch for Downtyme, thought his presentation went well, although he was a little nervous.
"Public speaking is never easy," he said.
Downtyme ended up winning the competition, raising $68 million in fake money from audience investors. A cheer erupted in the back of the room after it was announced that Roth and his team won the competition.
"It's humbling for sure," he said.
The group held just a $2.5 million lead over second place winners Nonspec from University of Massachusetts-Lowell. The company's mission is to deliver a cheaper prosthetic for developing nations. This winter, Nonspec will travel to India to begin clinical trials for their product.
Gentoo Inc. from Wentworth Institute of Technology placed third with a vest-like product to make it easier for patients undergoing outpatient treatment with intravenous medicines. Other impressive startups included advanced software for television advertising ratings from MIT and a reusable water bottle that doubles as an advertising tool from Babson College.
For coming in first place, Downtyme received several prizes, including $12,500 in legal services from the law firm of Morse, Barnes-Brown and Pendleton, as well as five years of access to office space, boardrooms and other utilities in Coalition Boston in Downtown Crossing, all totaling more than $20,000.
"We think it [Boston] is a great place to start a company," Wald said. "We want people to stay here."