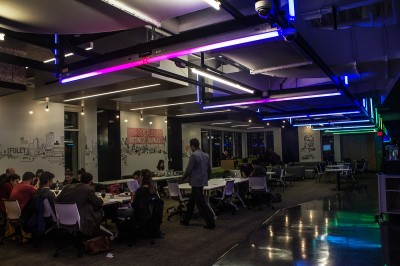 Boston Mayor Martin Walsh hosted representatives from Greater Boston area startups at City Hall on Thursday in recognition of Global Entrepreneurship Week.
Walsh brought together leaders from tech and media companies dedicated to working with intelligent startup projects to connect them with the resources and networking opportunities that come with the larger companies. The gathering also fueled conversation about Boston's startup culture and what can be done to improve it, according to a Thursday press release.
"The Innovation District is thriving, and it's because Boston has the entrepreneurs and investors committed to Boston and our startup economy," Walsh said in the release. "Innovation knows no boundaries, and this active community has grown far beyond Downtown, taking root across our neighborhoods and in the very spirit of our City."
Earlier in the week, on Wednesday, the Mayor's Office of New Urban Mechanics, in collaboration with Orange Barrel Media, celebrated the six victorious startups of startup collaboration group PitchBoston, who were granted funding and a video billboard space in District Hall in the Innovation District, according to the release.
The Awesome Foundation, CoachUp, Inc., Greycork, Grove Labs, Kinvey and Ovuline came out victorious out of a pool of 30 applicants.
Arian Radmand, a Boston University alumnus and co-founder of CoachUp, Inc., a company that works to connect athletes with private coaches, said he learned about PitchBoston on social media, and the experience was beneficial.
"PitchBoston has been extremely positive for us," he said. "We're a small company, starting to get rise, doing more and more in terms of getting new coaches and athletes. Something like this is great visibility for us. This video billboard [in District Hall] is right down the street from our office and our community. It's right where we are. Without PitchBoston, this would never have been attainable."
Radmand said Boston was the perfect location for startup companies looking to expand.
"All of the resources available here have been indispensable to growing our business," he said. "We've utilized internship programs, the BU network and just the overall ecosystem of Boston's innovation district, where we've settled. The city has been very cooperative, and I've seen them embrace all the startups that move into Boston. The city of Boston is really creating a community of small companies, which is why so many businesses have moved here."
Co-founder of Grove Labs Gabriel Blanchet said the large student population of Boston has helped promote startup culture.
"[Co-founder] Jamie [Byron] and I were both seniors at MIT [Massachusetts Institute of Technology] when we started Grove. We're 14 people now at Grove, but several other Grove team members just graduated from Harvard and MIT," he said in an email. "We'd like everybody in the world to have access to fresh, healthy, sustainably-grown food."
Several residents said they are glad to see Walsh promoting a startup culture within the city and hosting events like PitchBoston that help startups thrive.
Fernando Goez, 53, of East Boston, said Boston needs more job opportunities, and the growth of startups will create them.
"I know a lot of people who could use jobs, and the mayor could help with that with this event," he said. "We have so many students. They should be a source of ideas for the city."
Alicia Scott, 37, of Dorchester, said she is familiar with the startup culture, and funding from the city will provide an incentive for strong startup companies to invest in Boston.
"Boston is really up and coming in terms of tech and startups," she said. "We have the smartest people in the world in this city, and funding the growth of small companies will put Boston on the map as the place to be for new and expanding companies."