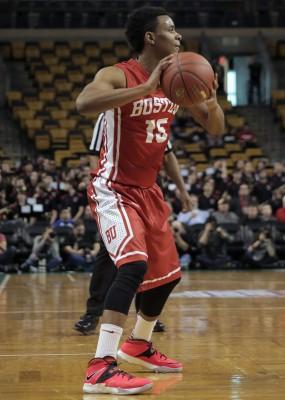 Following a hard-fought game against the No. 1 University of Kentucky Friday night, the Boston University men's basketball team is seeking its second win of the season against non-conference foe, the University of New Hampshire. Tuesday's game at UNH is the final stop on a four-game road trip to start the season for BU.
Despite the loss against the Wildcats (5-0) on Friday, the Terriers (1-2) stood tough against the Wildcats for the majority of regulation, with Kentucky pulling away in the final 10 minutes.
"It was definitely good to see," said BU coach Joe Jones when asked about his team's toughness. "The things we talked about…we wanted to play a full game, we didn't want to back down, and we wanted make sure that we were mentally tough, even when they made runs against us. I thought our guys did a really great job of that."
This was the first time BU played at Kentucky since 2010 and the first time they matched up against the nation's No. 1 ranked team since facing off against Duke University in 2005.
Going with a zone defense against the Wildcats proved to be effective as the Terriers were able to force 13 turnovers.
Kentucky, on the other hand, allowed a season-high 65 points, 24 of which came from sophomore guard Cedric Hankerson. The Miami native set a career high in points and has been a bright spot for the team in the early part of the season, leading the squad with 18.3 points per game.
"Cedric's a terrific all-around player," Jones said. "He's being able to showcase some things that he's capable of doing. He played a role last year for us as a scorer off the bench, but he's more than that. He's hungry to get better and improve, and I think that's the key to success."
The Terriers' offense has done well in three games this season, averaging 67 points per contest and shooting 40.6 percent from the 3-point range. This is largely due to strong shooting by freshman guard Cheddi Mosely, who is 8-14 from beyond the arc this season.
"That's one of the things that we do really well is shoot the ball," Jones said. "We can make tough shots, and that's the mark of a good team."
Hankerson and Mosely (10.3 ppg) — two underclassmen — are the top two scorers on the squad, followed by a pair of juniors. Guard John Papale and forward Nathan Dieudonne have also looked strong, averaging 10 and 8.7 points, respectively.
This balance between the fresh faces and the more experienced players should be a blueprint for success for the new-look Terriers this season, and Tuesday's game should be another good test.
The Wildcats (1-2) are a young team as well, as each of their top three scorers are underclassmen.
Freshman Tanner Leissner leads the squad with 11.3 points per game, followed by guard Jaleen Smith with 11 and guard Daniel Dion with 8.3.
The Wildcats are coming into their tilt with BU after dropping a close one at Bryant University Thursday by a score of 72-63. Down by 24 points at halftime, UNH outscored Bryant 37-22 in the second half but ended up falling short.
Despite a losing record, the Wildcats are only allowing 55.3 points per contest and holding opponents to 37 percent shooting. If they keep this level of defensive intensity up against BU, it could prove to be quite the battle for the Terriers.
"We have to approach this one very similar to how we approached the Kentucky game in terms of intensity and fearlessness," Jones said. "You want to bring that into every game, and that's one of the keys to sustained success."