NORTH ANDOVER — Plummeted with 24 penalty minutes, it could have gone a lot worse for the No. 2/3 Boston University men's hockey team. But on the back of a 7-for-7 penalty kill, BU tied No. 18 Merrimack College, 1-1, on Friday evening at Lawler Arena.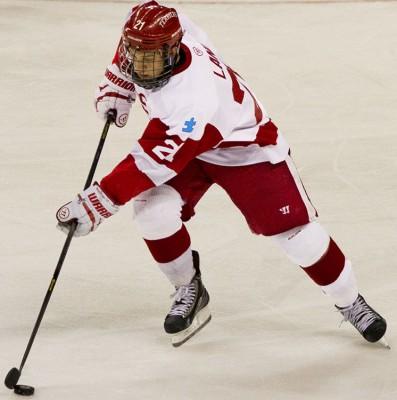 Junior forward Matt Lane secured the "hard-earned point on the road," as BU coach David Quinn referred to it, for BU (9-3-2, 6-1-2 Hockey East). Shortly after BU's power play ended, at 1:37 into the third period, Lane evened up the score when he tapped in a rebound — BU's first goal scored in more than 101 minutes, when senior assistant captain Evan Rodrigues scored an empty-netter against Colgate University on Saturday.
"We were trying to get pucks to the net, and luckily I got to the net and jammed home the rebound," Lane said.
Though its penalty kill was tenacious, BU's power-play unit was unsuccessful, going 0-for-6 on the night. The Terriers had a prime opportunity to secure the victory in overtime after a high-sticking penalty was called on Merrimack forward Brian Christie with 1:30 remaining in the frame. The Warriors (10-4-2, 4-3-1 Hockey East) cleared all of BU's chances in the final seconds, however.
Merrimack got the scoring underway 1:07 into the second period, off a wrister from freshman Brett Seney to give the Warriors a 1-0 advantage.
BU got swarmed with penalties in the second frame, getting booked six times. The Terriers' penalty kill was effective, though, allowing no goals while down a man. The unit killed off back-to-back penalties on freshman forward Chase Phelps midway through the second period, and cleared subsequent back-to-back penalties on freshman defenseman John MacLeod, including his 10-minute misconduct.
"We've definitely got to move our feet," Lane said about avoiding penalties. "It's a small ice surface out there, a pretty chippy game. We've just got to move our feet more, keep our sticks down, not take stick penalties and stay out of the box more."
The Terriers had several opportunities to even up the score in the second frame. Senior assistant captain Cason Hohmann stole a pass, spun around for a wide-open opportunity at the doorstep, and sent it right into Merrimack goaltender Collin Delia's glove. Later in the period, freshman forward Jack Eichel brought it down low, fell down right in front of the Merrimack goal and nearly tapped in an extended-arm shot before the net came loose.
After starting the season with an 8-1-1 record, BU has compiled just a 1-2-1 record in its past four games. Quinn said his team's youth — the Terriers played eight freshmen Friday night — may be starting to catch up with BU, but the team will be looking to refocus in the home half of the weekend series against the Warriors on Saturday.
"It's a tough time of the year," Quinn said. "We've played a lot of hockey and when we play, we play against men. There were a lot of men on that team, and it can wear you down and I'm proud of the point, I'll tell you that. To come up here and get a point, it's pretty impressive and we gotta regroup and there's a valuable two points at stake tomorrow.
"We've gotta be ready for the drop of the puck tomorrow and we've gotta get more pucks on net, that's the bottom line."