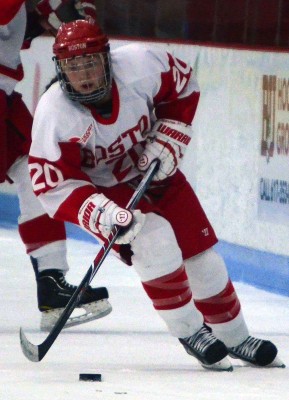 For the second straight game, the No. 5 Boston University women's hockey team put four goals on the scoreboard en route to a commanding 4-1 win over the University of Vermont Saturday evening in Burlington, Vermont.
The contest marked the Terriers' (11-3-2, 7-2-0 East) first away Hockey East contest in nearly a month, but the team was able to comfortably come away with two points from Gutterson Fieldhouse.
From an offensive perspective, BU was firing on all cylinders, with 38 shots in total on the Vermont (8-9-1, 1-7-0 Hockey East) goal and was able to reach double digits in every period. Madison Litchfield, the Catamounts goaltender, was able to turn aside 34 Terrier shots on the afternoon, but her efforts could not deter the Terriers' high-powered forward corps.
The four goals were evenly distributed during the three periods, as the Terriers tallied once in the first, twice in the second and once in the third. The scorers had a similar distribution, as junior forward Sarah Lefort fired home twice, freshman forward Rebecca Leslie added another tally and sophomore forward Samantha Sutherland chalked up a goal of her own.
"It's always nice to have players stepping up and contributing on the offensive end," said BU coach Brian Durocher. "Sarah has been scoring a lot for us lately, but having people like Samantha [Sutherland] and Rebecca [Leslie] putting ones in too lessens the load for some of our players. Most of all though, when you get as many shots as we did on net against Vermont, some are bound to go in."
While the Terriers impressed on offense, their defensive efforts were just as crucial in the victory, Durocher said.
As an entire unit, BU only allowed the Catamounts to total 15 shots on goal in the three periods, holding Vermont's shot total to single digits in every period.
"For the last set of games now, we have been really playing well defensively as a team," Durocher said. "Part of that success has been our forwards chipping in, but also all six of the defenseman making their mark far up the ice before attacks get going."
The low UVM shot total may reflect the defensive play of the forwards and defensemen, but BU's sophomore goaltender Victoria Hanson was equally stout between the pipes. In her 10th start of the season, she was able to turn away 14 shots. This pushed her season save percentage to .912, which is good for fifth best in Hockey East.
Her play is often overshadowed by the Terriers' offensive prowess, but Durocher praised her ability to stay honed in over 60 minutes.
"We've been talking with Victoria lately about how to stay mentally focused when things aren't so busy on her end," he said. "Lately, she's been facing around 15, 16 [and] 17 shots a game, and when it's like that, it's really easy to lose sight of things. As a coaching staff, the biggest thing we've stressed is making sure she is ready when the puck comes her way, and she sure has been."
With the win, the Terriers improve to 7-1-1 on the season away from the friendly confines of Walter Brown Arena. Durocher said he was impressed with the performance of his team in yet another convincing victory on the road.
"For us as a group, we are always looking to really be in that upper echelon of teams," he said. "The best way to do that is to come ready to play every single game, no matter who the opponent is or where the game is played. Lately, we've been thorough in our performances, and this has really allowed us to get a nice run of games going here."