In this day and age, smartphones are capable of summoning a ride home, a delivery of fried rice and now, some immediate help with that calculus homework.
Harvard University students Mazen Elfakhani and Hikari Senju are easing the stress of finals on campuses like Boston University with Quickhelp, an app tailored to students looking for academic help, and Quickteach, an app tailored to tutors able to help out a struggling pupil.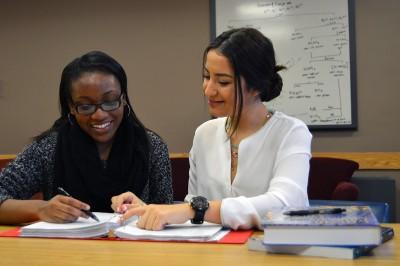 "We've only started a couple of days ago, and already, we have a lot of interest, so it seems like it is going in a good direction," Elfakhani said. "We started focusing mainly on MIT [Massachusetts Institute of Technology], Harvard and BU, and within roughly a week and a half, we got 103 tutors who are mainly graduate students who love to teach and really enjoy the material. They're very knowledgeable about it."
These apps function in an Uber-like way, using location-based technology that encourages fast access for students and tutors. Quickteach allows tutors to "punch in" whenever they are available. This way, students looking for assistance on the Quickhelp app can see what tutors are available the moment an academic crisis strikes. All tutors are verified to make sure they have the credentials needed for the job.
"If the person were to open the app and their first experience is bad, they're not going to go back to it or they're not going to tell their friends about it," Senju said. "It's very important that the first tutor they get in whatever subject it is, that that experience is magical. So because of that, we make sure we have very high standards for people that want to be tutors."
Senju came up with the idea during a startup internship in San Francisco where locational services were very popular. Despite the popularity of locational services, this kind of technology has yet to exist in education, Elfakhani said.
"This technology hasn't been used in education at all, and there's definitely a huge need for it. So the idea is that people can come together spontaneously to learn and teach each others things," he said. "The assumption is that basically everybody has something that they can teach somebody else and vice versa. But those interactions don't ever happen for mainly two reasons. One, a platform to allow it to happen [doesn't exist], and two, people aren't used to thinking of actually finding someone to teach them something spontaneously at the moment and for only a short period of time."
But the lack of such educational technology is also due to a certain lack of trust in that technology, Senju said.
"[It's] still kind of dangerous," he said. "But if there's some people willing to trust through platforms that provide ratings, then it can work."
The founders opted to launch the app in the Greater Boston area because of all the colleges and universities within a short distance of each other.
"You have people who are experts in a range of areas who can teach a range of subjects and people who need that help in various subjects," Elfakhani said.
The reasonable tutoring rates are another advantage to using Quickhelp, he said.
"In the Boston area, a tutor usually charges $55 to $65 an hour, which is really high because tutors end up getting charged really high rates by tutoring companies that provide students," Elfakhani said. "Whereas the app that we're using is completely free, so tutors are willing to charge lower rates."
Although the app has been a success right off the bat, Elfakhani said there are no plans as of yet to move beyond Boston.
"We have this idea of building this network of knowledge exchange between universities in the Greater Boston area with this technology given that people are more trusting," he said. "And so many people are in this particular market."