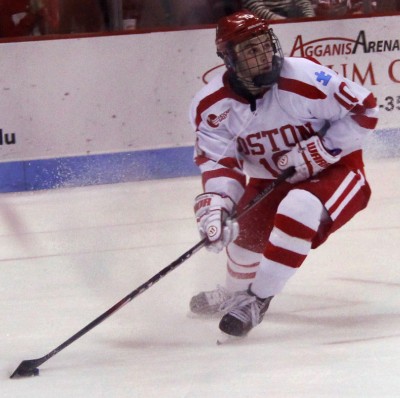 In a span of 24 seconds, things went from bad to worse for the No. 1 Boston University men's hockey team.
During the middle of the first period Friday night, the U.S. National Junior Team made its presence felt on a BU power-play opportunity. Defenseman Noah Hanifin and forward Jack Eichel — who donned a red, white and blue jersey in lieu of his usual scarlet and white — scored consecutive shorthanded goals to put Team USA up early.
Despite late tallies from freshman defenseman Brandon Hickey and junior forward Danny O'Regan, Team USA added three more of its own and earned  a 5-2 victory over the Terriers (11-3-2, 7-1-2 Hockey East) at Walter Brown Arena.
Returning to a building in which the men's hockey team hasn't played in for 10 years was special for BU head coach David Quinn and his team, even in spite of the loss.
"It was a good night for our guys, kind of gave guys a chance that haven't played quite a bit," Quinn said. "To play at Walter Brown and to play the caliber team that we faced tonight, it was a unique experience."
What started out as a memorable event — one that included former Terrier Mike Eruzione in a pregame puck drop at center ice — quickly turned into a lopsided affair. From the outset, Team USA displayed its quickness into the offensive zone and an ability to keep up a consistent forecheck. The U.S. failed on an early power-play opportunity, but cashed in twice with a man down.
Forward Chase De Leo started the first goal after he won a battle in the defensive zone along the right-wing boards and sped into the USA attacking zone. Hanifin charged down low and tapped the puck by junior goaltender Matt O'Connor for a 1-0 USA lead. Not long after, Eichel wristed a shot from the right circle that beat O'Connor high glove side for the U.S.'s second goal.
Being on the other side of an Eichel goal was not something Quinn had ever experienced. He didn't enjoy it too much.
"It wasn't fun, it's not easy, I know what the other coaches throughout college hockey feel like," Quinn said. "But, he's got a lot of help on that team, too."
O'Regan said as much as he and Eichel are teammates at BU, the two tried to act as the opponents they technically were on Friday night.
"It was cool, standing across from Jack," O'Regan said. "We didn't say much to each other. We tried to keep it serious."
After the first two goals, Team USA kept the pressure up with each shift, and at the end of one period, the U.S. had 15 chances to its credit. The Terriers had just one, which was easily stopped by goaltender Brandon Halverson.
Quinn said he thought after one period that the game might be "waste of time for everybody." Fortunately, though, the Terriers got their legs under them a bit in the middle frame. But again, it was Team USA that found the back of the net first. De Leo tapped in a rebound after freshman netminder Connor LaCouvee stopped an initial chance from Sonny Milano at the 2:04 mark of the second.
BU answered back with a few chances of its own, including a 2-on-1 with senior assistant captain Cason Hohmann and sophomore forward Kevin Duane. The Terriers didn't get on the board, however, until Hickey's goal over 11 minutes into the period. The freshman blueliner threw the puck through a screen that eluded the vision — and glove — of Halverson.
For the period, BU only trailed in shots 10-8, a vast improvement over the first.
"I was proud of our guys when recollected ourselves and gave them a little bit of pushback," Quinn said. "Took a little bit more time and space away from them, made them make plays with a little less time."
But a fast, physical Team USA continued to drive the puck down low, adding a fourth goal in the third period when forward J.T. Compher redirected a centering pass from winger Jeremy Bracco at 9:21 mark of the final frame.
O'Regan's rebound goal cut the U.S. lead in half with a little over eight minutes left in the third, but that was as close as the Terriers would get. Defenseman Anthony DeAngelo added the final touches on the American win with an empty-net goal in the final minute.
On this night, though, the end result was not what mattered most to Quinn. It was the health of his team.
"It was fun," Quinn said. "I'm just glad that everybody came out of it and nobody got hurt, to be quite honest with you."