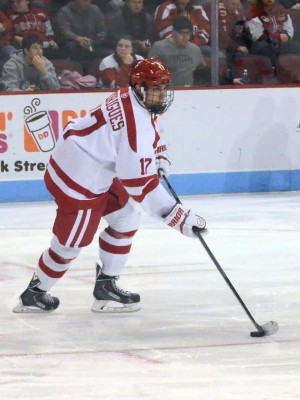 Staring at a one-goal deficit against Union College in the third period, the No. 1 Boston University men's hockey appeared to receive new life thanks to a power-play opportunity with less than five minutes remaining on the clock.
However, based on their current track record with the extra-man unit, the Terriers (11-3-3, 7-1-2 Hockey East) might have just preferred to skate it out via 5-on-5 hockey.
Up until that point against defending national champion Union College, BU had failed to capitalize on six power-play stretches — highlighting a stretch that saw the Terriers notch just one score with an extra skater over 21 opportunities.
Thankfully, the Terriers made their shots count when it mattered most, as a score from Evan Rodrigues on the man advantage at 15:44 allowed BU to settle for a 3-3 draw against Union (10-7-2) Saturday night at Agganis Arena.
Aside from Rodrigues' clutch mark, the Terriers also received big contributions from junior captain Matt Grzelcyk — who registered two assists on the night — and junior goaltender Matt O'Connor, who recorded 29 saves in the contest.
For BU coach David Quinn, a two-week break for the Terriers led to an uncharacteristic amount of questionable plays throughout the contest.
"I didn't think we were executing some of the things we wanted to. I thought our purpose was pretty good, but I thought we just couldn't execute it and do it quickly. … We made some costly mistakes that end up in the back of the net, and that's what happens when you play against a good hockey like that."
Aside from Rodrigues' clutch mark on the man advantage, the Terriers also received big contributions from junior captain Matt Grzelcyk — who registered two assists on the night — and junior goaltender Matt O'Connor, recording 29 saves in the contest.
BU drew first blood less than six minutes into the game, as Grzelcyk wristed a shot toward Dutchmen (10-7-2) goaltender Alex Sakellaropoulos and a scrum of skaters.
Union's netminder appeared to snag the offering, but the puck trickled out of his glove and toward freshman forward A.J. Greer, who promptly potted it into the Dutchmen's net to put BU up, 1-0, at 5:47.
It was the Joliette, Quebec native's first goal since BU's season-opening tilt against the University of Massachusetts Amherst on Oct. 10.
Just 27 seconds after Greer's tally, Union would equalize the score by way of a goal from freshman Spencer Foo. After forward Matt Wilkins' shot bounced off of O'Connor's pads, Foo fired the rebound into the Terriers' netting to make it a 1-1 game.
A little over two minutes after Union's tally, BU earned a power-play opportunity after freshman Ryan Scarfo was sent to the penalty box for hitting from behind. While the call gave the Terriers a window to answer back at Union's score, the Dutchmen ended up benefiting over the resulting two minutes.
With just over 10 seconds left on the Terrier power play, Union senior Daniel Ciampini forced a turnover and earned a mini-breakaway chance. The Dutchmen forward was brought down due to trailing freshman defenseman Brandon Fortunato's stick, but not before sliding the puck past O'Connor to give his team a 2-1 lead.
Looking to bounce back after Union's two-goal run, the Terriers received a boost from freshman forward Nikolas Olsson — skating for the first time in nine games after being sidelined with an upper-body injury.
After freshman forward Brien Diffley uncorked a shot that sailed towards a scrum of players moored near the Dutchmen's net, the puck managed to bounce off Olsson and the stick of a Union defenseman before trickling past Sakellaropoulos to knot the contest at 2-2 going into the first intermission.
"I definitely did not think I had the goal initially," Olsson said. "I saw it high shot, I saw the goalie stand up and I saw it enter the net bottom half. So I definitely didn't think it was mine."
It was the first time that the Terriers scored two goals in the first period of a game since BU's 4-1 win over Northeastern University on Feb. 28, 2014.
The score would stand at 2-2 tied throughout the second period, but BU nearly netted the go-ahead score in the waning moments of the stanza.
With just under 30 seconds remaining, junior forward Danny O'Regan utilized a myriad of dekes and dangles to position his way in the high slot of Union's zone.
The Needham native fired a wrister toward the Dutchmen goal, but the puck clanked off the crossbar — preserving the game in a deadlock going into the final 20 minutes of play.
While BU outshot Union by a 9-7 margin in the second, Quinn affirmed that he was dissatisfied with his team's effort in the period.
"I thought in the second period, we completely got away from supporting the puck," he said. "I thought we cheated too much, our forwards were leaving our defenseman on an island, and it showed."
The third period yielded few results for either team until a cross-checking penalty from senior forward Cason Hohmann gave Union a power-play bid at 13:47.
Union would reap the benefits of the man advantage, as sophomore Mike Vecchione unloaded the puck into the Terrier goal with 5:36 remaining to give the ECAC visitors a 3-2 advantage.
The Terriers refused to roll over, though, as Rodrigues tapped in the puck from the left circle just 1:30 after Union's goal to once again even up the score at 3-3.
"The power-play goal was huge," Quinn said. "The power-play goal is a direct result of some good puck movement and [junior forward] Ahti Oksanen going to the net, and that opens a lane for Rodrigues closing on the back door and Danny makes a great play."
Neither team was able to get the game-winning goal across for the remainder of regulation, forcing both squads to head into overtime.
The Terriers failed to muster much in terms of offense during extra time — posting just one shot on goal in five minutes of play — but the Dutchmen also failed to push across the winning score, forcing both teams to settle for the 3-3 draw.
While a tie might not have been the ideal situation for Quinn and the Terriers, BU's bench boss also noted that he was impressed with the way his players bounced back from a lackadaisical start.
"Overall, you'd like a win, but after only practicing for four days and our first game back, I'm pretty happy with our effort," Quinn said. "Obviously, we've got to clean some things up, but I thought that it was a great college hockey game to watch.
"It was probably fitting that it was a tie."
OTHER NOTES:
While the U.S. National Junior team was eliminated from the 2015 World Junior Championships Friday, Quinn noted that "there was no decision to be made" in terms of starting freshman center Jack Eichel on Saturday, stating that the talented forward "needs to take some time off" … Quinn added: "There was no debate, there was no discussion and I know he wanted to play — he tried to convince me a few more times — but that was falling on a deaf ear" … Saturday's game was the first-ever meeting between Boston University and Union College … BU's match against the Dutchmen also marked the 10-year anniversary of the opening of Agganis Arena. No. 13 BU defeated No. 1 University of Minnesota, 2-1, in the arena's inaugural contest.