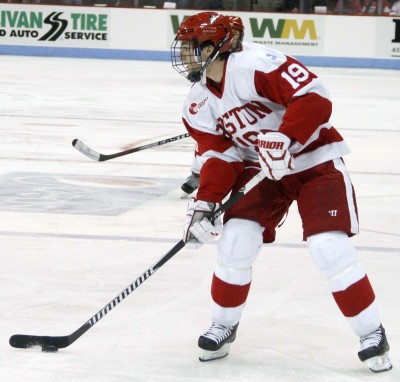 David Quinn delivered some reassuring news for fans of the No. 2 Boston University men's hockey team on Wednesday.
"We're as healthy as we've been all year," the head coach said. "We might actually have a full, healthy team at our disposal for the first time all year."
As the Terriers (11-3-3, 7-1-2 Hockey East) travel to Madison, Wisconsin in their lengthiest trip this season, a weekend slate against the University of Wisconsin on Friday and Saturday, they will look to benefit from this unscathed roster.
Sophomore center Robbie Baillargeon (mononucleosis) and freshman wing Nikolas Olsson (upper-body injury) made their returns to the lineup on Saturday against Union College following a two-month absence.
Freshman center Jack Eichel was rested against Union (10-7-2) after his Team USA was eliminated from the IIHF World Junior Championship one day prior. Eichel, who was named the Hockey East Rookie of the Month for December on Monday, is the nation's leading scorer with an average of 1.69 points per game. He is expected to return to the first line Friday.
Thus, for the first time since Nov. 8, all of BU's top-six forwards — junior Ahti Oksanen, Eichel and junior forward Danny O'Regan on the first line, and senior Evan Rodrigues, Baillargeon and senior Cason Hohmann on the second line — will be active this weekend.
"It certainly gives us more depth, which I have felt all along," Quinn said. "And unfortunately, you can only play 12 forwards, so we've had good forwards that have not been able to play this year. But you add two forwards, and your depth's increased, and your third line's better, your fourth line's better. Everybody benefits from it."
Even with the absence of key players for a long period this season, the Terriers have nonetheless had success offensively, with an average of 3.35 goals scored per game, seventh-best in the nation. Coupled with the nation's sixth-best defense, allowing an average of 1.88 goals per game, BU proves a major threat to Wisconsin (2-11-1) in the Terriers' first trip to Madison since 1989.
A year after advancing to the first round of the NCAA Tournament, it has been a different story for the Badgers this season. Wisconsin is averaging just 1.71 goals per game, sixth-worst in the nation, and allowing 3.5 goals per game.
Wisconsin has had some recent success, knocking off No. 8 Michigan Technological University by a score of 2-0 on Jan. 3, but has just one other win, and no Badgers player has reached double-digits in scoring. Wisconsin's leading scorer is forward Grant Besse, who has eight points this season (three goals, five assists), and forward Morgan Zulinick is close behind with five goals and two assists.
In the teams' last meeting, Oct. 19, 2013 at Agganis Arena, BU earned an upset 7-3 victory over the then-No.2 Badgers. Hohmann recorded four points (one goal, three assists) and now-junior goaltender Matt O'Connor made 40 saves.
O'Connor will be matched up this weekend against Wisconsin goaltender Joel Rumpel, who has a 3.17 goals-against average and a .904 save percentage. O'Connor is in the midst of the best season of his career, with a 1.76 goals-against average and a .939 save percentage.
"I think his confidence level's at an all-time high," Quinn said. "There's not a lot of wasted movement with Matt, he understands what his strengths are — his size, his angles. He competes. So you add all that up, you've got a guy who's 6-foot-5 with athleticism, you have a real good goalie. And we know we do."