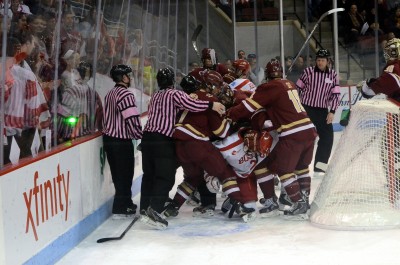 It got ugly in the first two minutes, when freshman forward Chase Phelps and forward Alex Tuch received matching penalties for roughing.
It got uglier when four more players were sent to the box for roughing two minutes later.
And it got even uglier when junior forward Danny O'Regan was called for tripping, and 30 seconds after that, freshman forward A.J. Greer was booked for interference. That gave No. 17 Boston College a 5-on-3 advantage, and an opportunity to set the tone early.
It did.
Falling into a deep, penalty-laden hole early, the No. 2 Boston University men's hockey team couldn't complete a late comeback attempt against the Eagles (13-7-2, 6-4-2), losing by a score of 4-2 on Friday night.
"We lost to the better team tonight," said BU head coach David Quinn. "They were playing with a little bit more passion, a little bit more pace.
"For some reason, we were a little bit flat."
BC's victory handed the Terriers (12-4-4, 7-2-2 Hockey East) their first loss since they were shut out by Dartmouth College on Nov. 30.
It looked as if the Terriers could mount the third-period comeback, when O'Regan fired one past BC goaltender Thatcher Demko off a pass from freshman linemate Jack Eichel 1:17 into the third period. Junior forward Matt Lane, then, made it 3-2 for the Terriers with just more than three minutes remaining.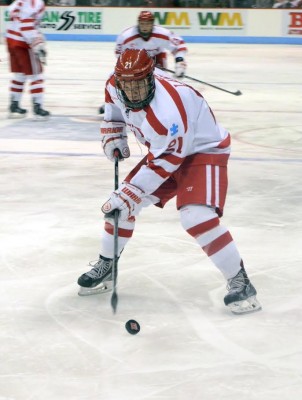 But despite a number of late chances, the Terriers couldn't get a third goal, and BC forward Zach Sanford added an empty-net goal with 33 seconds remaining to secure the victory for the Eagles.
"We had to play some risky hockey and we get two goals," Quinn said. "We get the goalie pulled and we had a couple of chances maybe to tie it and they make a timely play, which is usually the different in these games. Obviously, we battled again, come back in the third period, but too little, too late."
It was a heated game between the Terriers and the Eagles early on, with a combined 26 penalty minutes in the opening frame alone, and a total of 36 in the entire game. BU earned 20 of those penalty minutes, and BC was able to capitalize twice on 5-on-3 opportunities.
Freshman Noah Hanifin opened the scoring for the Eagles with a 5-on-3 one-timer just 6:41 into the game on a pass from defenseman Ian McCoshen.
Tuch added another tally at the 17:43 mark of the period, with a one-timer of his own that went sailing past Terrier junior goaltender Matt O'Connor. Tuch ripped the wound open more 13:23 into the second period with another goal, a 5-on-3 strike for his third point of the game.
Despite the three goals he allowed, O'Connor recorded 37 saves in the contest. Demko, on the other end, stopped 31 Terrier shots.
BU dropped to 3-11-1 all-time against BC at Agganis Arena. Though the Eagles have had the edge on the Terriers' home ice in recent years, BC head coach Jerry York had plenty of praise for BU and its 12-win squad.
"When you look at their club, boy, [junior captain Matt] Grzelcyk, and O'Regan … [senior assistant captain Evan] Rodrigues, their goaltender, O'Connor's very strong," York said. "This is talented, top to bottom. …. They're gonna be a dangerous team as the season progresses. And they have been already. But they've got a lot of good players."
After a pause, York added, "Too many good players."