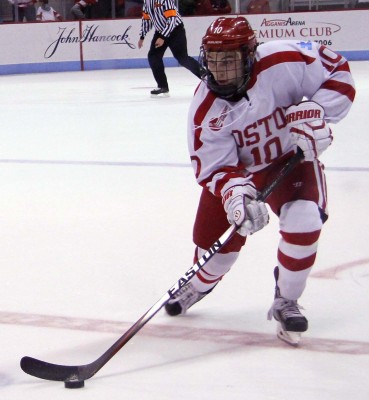 Boston's latest winter storm caused more than just commuter delays and school closings.
It also put a hitch in the No. 2/3 Boston University men's hockey team's schedule.
Instead of playing for its 30th Beanpot title this past Monday, the Terriers (18-4-4, 12-2-2 Hockey East) have dealt with a one-week layoff from game action.
But when BU does get back on the ice for a home-and-home series with the University of New Hampshire this weekend, the Terriers have a chance to accomplish something that the program hasn't been able to do in six years. A win on Friday night at Agganis Arena would give BU its seventh consecutive victory, a feat unmatched since the 2008-09 team pulled it off to end its national championship run.
Snow has been an annoyance, yes, but for BU coach David Quinn and his team, it does not mean the significance of the game is diminished. The wait for this one was just a little longer.
"I think you always want to play your schedule, so there's really not much you can do about what happened on Monday," Quinn said. "Our guys will be ready to go. They know the season's winding down. Games get more important as the season starts coming to a close.
"I don't think it's going to affect us one way or the other."
In a game important as any, BU came away with a 5-2 road win over then-No. 11/12 University of Massachusetts Lowell Feb. 6. Junior forward Ahti Oksanen scored just 38 seconds into the first for one of BU's three opening-period goals.
Senior assistant captain Evan Rodrigues tallied the next three for his first collegiate hat trick, while also notching his 100th-career point along the way. He and his linemates — freshman forward Jack Eichel and junior winger Danny O'Regan — combined for nine total points on the evening.
An impressive win from start-to-finish cushioned BU's lead to four points in the Hockey East standings over second-place No. 10/11 Boston College. What pleased Quinn, though, was the continued trend of good first periods. The Terriers now have six first-period goals over their last three contests.
"I think we're getting better with our starts," Quinn said. "We've been more opportunistic over the course of the season. It's not like we haven't had chances — we just haven't buried them.
"Hopefully we're growing as a team and we're getting better and we're understanding that you've gotta play 60 minutes if you're going to give yourself a chance night in and night out. And you can't wait for the playoffs to take that approach, you've gotta do it in the regular season."
The Wildcats (10-16-2, 5-10-1 Hockey East) come into the two-game series on a bit of a different note. UNH has lost four out of its last six, and is now in 11th place in the conference. Last weekend, the Wildcats split a series at the University of Vermont.
Offensively, the team has seen a dip in production from last season, although that is far from the largest issue plaguing the Wildcats. UNH boasts four skaters with 20-plus points, including 29 from sophomore Tyler Kelleher.
"We know they're a very gifted team up front," Quinn said. "We have to make sure we're committed to being physical and not cheating and doing the things we have done that's allowed us to have some success this year."
What have been problems, as they are for many of the bottom-tier teams of Hockey East, are a lack of consistent defense and good goaltending. The Wildcats actually have a plus-94 shots on goals differential, yet have the second-to-worst defense (3.11 goals allowed per game) in Hockey East.
Freshman Adam Clark has spent the majority of time in net this season, although things haven't exactly gone well for the first-year netminder out of Alberta. His 2.93 goals-against average and .894 save percentage rank him 13th and 14th in those league categories, respectively. Another freshman, Daniel Tirone holds a slightly better .900 save percentage, albeit in eight starts.
The stats might not paint a pretty picture for the Wildcats, but Quinn said BU will see a UNH team that will play better than one might expect.
"Well, a team that's better than their record, I do know that," Quinn said of the Wildcats. "They've lost a lot of tough games. … They're probably better than their record. They look back at some of the games they've lost, a play here or there makes a difference between winning and losing."
Other Notes
Everyone on the team, minus sophomore defenseman T.J. Ryan (upper-body injury), will be available this weekend … Saturday's originally scheduled 7 p.m. start has been moved up to 4 p.m. because of weather concerns … Per his Instagram account, goaltender Sean Maguire has been cleared to skate and train again, although not with BU.