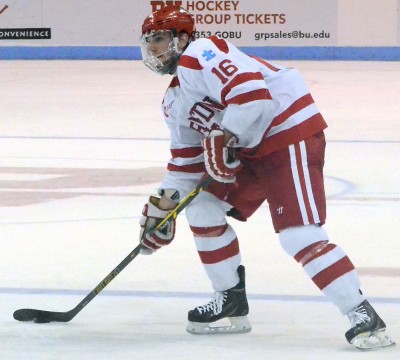 The No. 2/3 Boston University men's hockey team enters this weekend's two-game series against the University of Notre Dame with a prime opportunity: To clinch the Hockey East regular season title for the first time since 2009.
It hasn't been an overwhelming topic of conversation for the Terriers (19-5-4, 13-3-2 Hockey East), but they're certainly well aware.
"We've talked about it," said BU head coach David Quinn. "It's a chance to win the league championship this weekend and to embrace it. It's something we've wanted to do when the season started. It's the pink elephant in the room … If we can't handle that type of pressure, we're not going anywhere."
If BU earns a win against the Fighting Irish (13-15-4, 8-6-4 Hockey East) on Friday at Agganis Arena, it would clinch at least a share of the Hockey East title. If the Terriers tie or win again on Saturday, they will outright win the conference title on their home ice.
The Terriers had a chance to clinch a share of the title on Saturday against the University of New Hampshire, but their chances were shut down early, as UNH (11-17-2, 6-11-1 Hockey East) jumped out to a 4-0 lead midway through the second period. BU mounted a comeback attempt in the third period, scoring three goals, but ultimately fell short.
But the Terriers have had success this season following their losses. In games following a loss this season, BU has a record of 3-0-2.
"You're not gonna go undefeated," Quinn said. "It's what we've talked about all year. How do you respond to a loss? People are gonna lose games, but how do you respond? And so far this year, we've responded well to our losses."
One bright spot in the midst of BU's loss to UNH Saturday was the play of the team's first defensemen pairing of junior captain Matt Grzelcyk and freshman John MacLeod.
Grzelcyk scored two goals over a span of 14 seconds to cut into the Wildcats' lead in the third period, while MacLeod chipped in two assists on the night.
Both blueliners have excelled this season, with Grzelcyk leading the team's defensemen with 21 points and a plus-minus rating of plus-20, while MacLeod has added eight points and posted a plus-13 mark.
"They've been a great combination all year," Quinn said. "Grizzy's had such a great year and Johnny has really grown over the last two months. I think he's playing more under control, and he's got good stick skills.
"Because he hits hard, people think that's all you can associate him with. But he's got a heck of a play on the third goal to [senior assistant captain] Evan Rodrigues, to fake the shot and get it down to E-Rod, so makes good passes, and he's physical, and it's a great combination. They complement each other really well."
While the Fighting Irish will also enter the weekend series looking to bounce back from a loss, Notre Dame has had a much tougher time finding consistency throughout the season.
After opening the 2014-15 season with a 5-2 record, the Irish have mustered a mark of 8-13-4 in the following 25 contests, including a 4-6-2 record since the start of the New Year.
Notre Dame's recent downturn this year is mostly a byproduct of a young roster, with 11 seniors graduating at the conclusion of the 2013-14 season. Despite the large influx of freshman skaters, the Irish still boast a number of playmakers, led by sophomore Vince Hinostroza. The Chicago Blackhawks prospect currently ranks fifth in Hockey East for scoring with 33 points (seven goals, 26 assists) in 32 games.
The Irish have also generated a large amount of their offense from the blue line, as defensemen Robbie Russo and Jordan Gross rank second and fourth, respectively, in Hockey East defenseman scoring. Russo, a fourth-round pick of the New York Islanders in the 2011 NHL Entry Draft, is second on the team with 12 goals on the year.
Despite their skill up front and on defense, the Irish have struggled in the net this year. Freshman netminder Cal Petersen ranks ninth in the conference in both goals-against average (2.52) and save percentage (.913).
While the stakes might loom large for the Terriers going into one of their final homestands of the regular season, Quinn reiterated the same "business as usual" approach when discussing his team's approach against its foes from South Bend, Indiana.
"It's just another Hockey East weekend," Quinn said. "You can't ever, ever take your foot off the pedal."
OTHER NOTES:
The 1995 BU team, which won a national championship, will be honored during the first intermission of Friday's game … The Terriers will wear a special uniform on Saturday evening for Autism Speaks Night … Quinn said the team is fully healthy, except for sophomore defenseman T.J. Ryan (upper-body injury), who is recovering well.